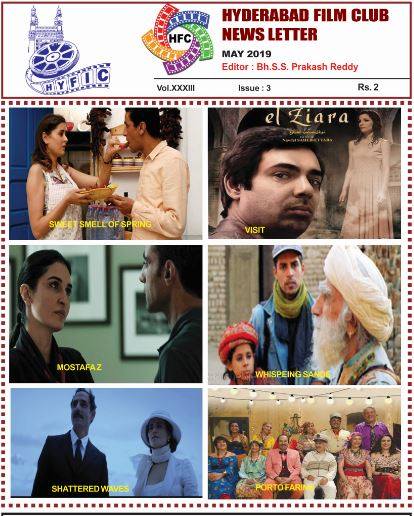 HYDERABAD FILM CLUB
At Sri Sarathi Studios Preview Theatre, Ameerpet
TUNISIAN FILM FESTIVAL
EMBASSY OF TUNISIA, NEW DELHI &
FEDERATION OF FILM SOCIETIES OF INDIA
16-05-2019 6.30 p.m. SWEET SMELL OF SPRING
Thursday (2016/103 mins.)
17-05-2019 6.30 p.m. VISIT
Dir. Nawfel Saheb Ettabaa
18-05-2019 6.00 p.m. 1. MOSTAFA Z
19-05-2019 6.00 p.m. 1. SHATTERED WAVES
Director : Ibrahim Letaief
Porto Farina also called porto-farina, is a Tunisian film directed by Ibrahim Letaief.
The movie "Porto-Farnia" traces the story of Aly, who had not been able to have a
child with Chantale and refractory to the adoption, accepts the proposal of his
despotic father : re-enter the country to marry Sarah his cousin. What he does not
doubt, it is not only his homecoming is going to confront a reality that he did not
suspect, but also a dark secret of the family that will make you keen to take its
The film traces 24 hours of the life of an ordinary Tunisian, Mustafa, caught up with
the absurdity of the system. We are on the eve of the first free presidential
elections, a crucial deadline for the young Tunisian democracy. Mustapha has a
tumultuous relationship with his teenage son and his wife who blame him for his
lack of ambition and his effaced nature. 
Prix de la meilleure interpretation masculine Abdel Moneem Chwayet pour son role
– Official competition Feature films, Carthage Film Festival
Hassouna, an officer in the French army, is committed to the cause of
independence of his country. In disregard of the risks, he transmits information to
the independent activists networks. Once he discovered a list of Tunisian
betrayers, he faces rejection and persecution.
A Canadian woman of Arab descent undertakes a trip and hires a guide to help her
find a specific place in the Tunisian desert. To encourage her to reveal her secret,
the guide tells her Sufi stories inspired by his childhood. Once in the heart of the
desert, the woman reveals the reason behind her voyage. The lighthearted guide
learns during the trip that his sons have left the country. He must catch his boys
before they engage in a dark and fatal future.
Director : Nawfel Saheb Ettabaa
JOSEF, around thirty, lives solitary person's life. A family drama arisen in his
childhood made him orphan and amnesic. But the fortuitous meeting with an
attractive and mysterious girl in front of an abandoned house provokes in him a
mnemonic process which opens a breach on his forgotten past. He dashes then into
Director : Ferid Boughedir
Once upon a time there was a naive young man called Zizou, who came to a magic
city (Tunis, to be more precise) where, on a popular souk and after some vexations,
he found both work and a couple of friends named Adel, Hamma, Sindicato, Hadj
Omar…. But life was not easy for all that as there were also villains (henchmen of
power, Islamic fundamentalists and other mafiosi – to be more explicit) who
alternately lured him to their sides, causing our gullible hero to endure blows, slaps
and humiliations galore. Of course, there is no fairy tale without a pure, selfless
love and a pure, selfless love did arise when Zizou, working a roof, caught sight of
the most beautiful creature he had ever seen. Unfortunately Aicha, the new
princess of his heart, was confined in a house against her will by a gang of
dangerous mafiosi. With such an obstacle to overcome, would the young man
manage to save the belle, end up marrying her and live happily after? All the more