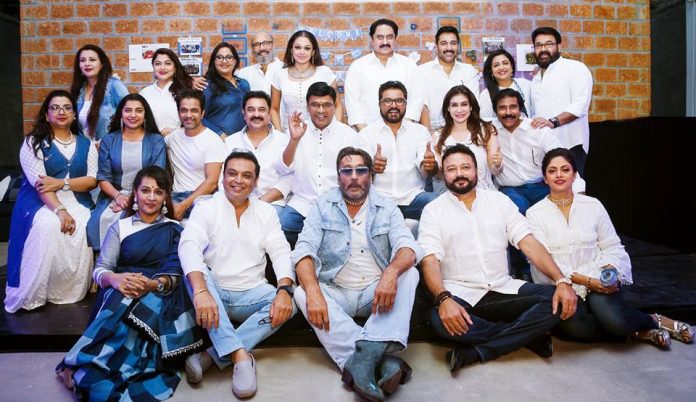 On November 10th ,22 film stars from the 1980s met yet again as they do every year at a private residence in T Nagar Chennai.
The theme decided for this year was denim and diamonds.
The venue was tastefully decorated by Nina Reddy managing director of Savera hotels, Sujatha Mundra and Niveditha
It was embellished entirely with denim material including the furniture sofa, flowers and screens . Mannequins were created wearing denim garments and white flowers
The 12 male stars arrived one by one , all looking dapper in white shirts blue jeans and some in denim jackets Jackie shroff stormed in , in a trendy jacket, High light was Mohan lal's designer white shirt embroidered with the number 80 at the back and the front of his white shirt He had come all the way from Portugal only to be with his 80s colleagues
The ladies had made the effort of designing casual jeans to Kurtis to even designer Sarees made of denim
Poonam dhillon from Mumbai gifted all the 22 and also the 8 other stars who were held up due to shooting , with personalized mobile phone covers with their individual photos and names, all the stars were made to play a game of dumb charades guessing the names and winning their respective gifts …
Entertainment was impromptu performance of Naresh, Satyaraj and Jayaram paying a tribute to Sivaji Ganesan , MGR and Kamal haasan respectively Jayaram stole the show with his Kamal tribute especially enacting the slow motion action sequence of Kamal Haasan from Viswaroopam ..
The ladies performed for the Telugu song Inkem Inkem from Geetha Govindam Scene stealer was MOHANLAL as he conducted a Kerala Onam boat race to the tune of a traditional song …8 stars were seen rowing a boat with MOHANLAL as the captain …It was hilarious as well as magnificent ….
The magical evening was created by Rajkumar Sethupathy , Suhasini Maniratnam , Khushbu, Poornima and Lissy Lakshmi. They were perfect hosts to their 80"s colleagues. This was one evening well spent with friends and nostalgia …They cut a cake later in the night and decided to meet again to celebrate the 10th re union in 2019 in a new city …