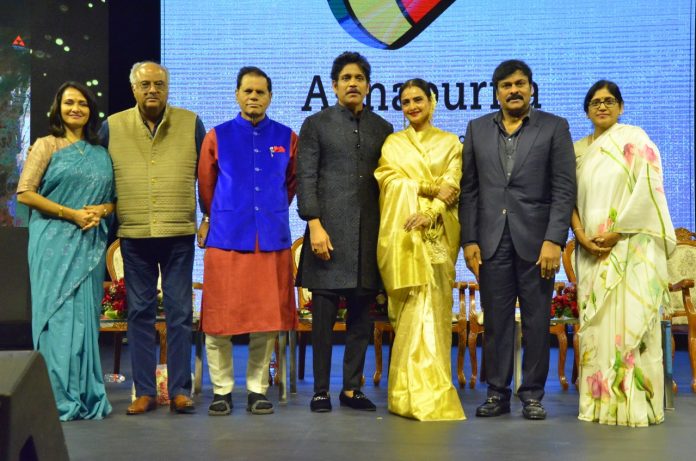 ANR National Award by Akkineni International Foundation presented to Boney Kapoor on behalf of Sridevi and Rekha.
Nagarjuna said… "My father Akkineni Nageswara Rao ..His determination is driving us today. This award will honor legendary personalities in the film industry. T Subbarami Reddy garu was very close to my father ANR garu and He maintains the same kind of relationship with me too. I worked with Sridevi garu for four films. She is a goddess of grace. I say that Boney Kapoor was a real gift to her. ANR garu and Sridevi garu live on as long as Cinema is alive. Rekha gari's first film in a full-length role was a Telugu film 'Rangularatnam'. Rekha garu is a very kind-hearted person. I am privileged to honor her with this award today. Our Chief Guest here today, Padmabhushan Megastar Chiranjeevi garu is very close to me as a brother. I can't express our bonding in words"
Boney Kapoor said…" I am proud today to receive this award on behalf of Sridevi. Thanks to Akkineni Foundation, Akkineni family and T Subbarami Reddy garu for this prestigious award."
Rekha said…" I spent ten years here in this Annapurna studios. This is a happy moment for me to recieve award today. Nageswara Rao garu guided me with a lot of things about the industry and acting. His words helped me a lot in my career. As per my mother's last wish, I did a Telugu film after a long time. I will do a Telugu film soon by clearly learning Telugu like Sridevi "
Megastar Chiranjeevi said…" My mother admires ANR garu a lot. I always feel happy about becoming Hero during the times of Legendary personalities NTR garu, ANR garu. I was lucky to act with Nageswara Rao garu in 'Mechanic Alludu' film. His guidance about this industry has helped me. He is like a 'Guru' for me. He was a walking encyclopedia. I am honored to present this award to Legendary Personalities like Sridevi and Rekha garlu. I worked with 3,4 films with Sridevi garu. She was completely dedicated to Cinema. It's very sad that she left us very early. I received a Filmfare award from ageless stunning beauty Rekha garu. I invited her as a chief guest for the 80's club event held at my home this year. it's an honor for me to present this award to Rekha garu. My heartful thanks to the whole Akkineni Family for the opportunity."
66 students of 'Annapurna School of Film and Media' were presented with their Graduation Certificates by Boney Kapoor and Rekha.