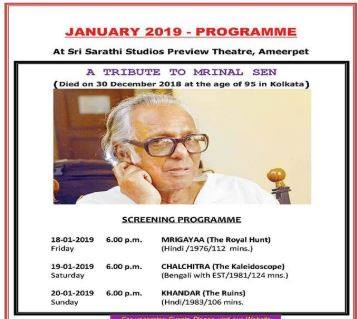 LEGENDARY FILMMAKER MRINAL SEN PASSES AWAY AT 95
Mrinal Sen (14 May 1923 – 30 December 2018) was a Bengali filmmaker based in Kolkata. Along with his contemporaries Satyajit Ray and Ritwik Ghatak, he was often considered to be one of the greatest ambassadors of Bengali parallel cinema on the global stage. Like the works of Ray and Ghatak, his cinema was known for its artistic depiction of social reality. Although the three directors shared a healthy rivalry, they were ardent admirers of each other's work, and in so doing, they charted the independent trajectory of parallel cinema, as a counterpoint to the mainstream fare of Hindi cinema in India. Sen was an ardent follower of Marxist philosophy.
Sen was born on 14 May 1923, in the town of Faridpur, now in Bangladesh in a Hindu family. After finishing high school there, he left home to come to Calcutta as a student. He studied physics at the well-known Scottish Church College, and subsequently earned a postgraduate degree at the University of Calcutta. As a student, he got involved with the cultural wing of the Communist Party of India
Sen's interest in film making began after he stumbled upon a book on film aesthetics. However, his interest remained mostly intellectual, and he was forced to take up the job of a medical representative, which took him away from Calcutta. This did not last very long, and he came back to the city and eventually took a job as an audio technician in a Calcutta film studio, which launched his film career.
Mrinal Sen first feature film, Raat Bhore (1955) featured Uttam Kumar who was not yet the Major star of Bengali cinema that he became. The movie was a let-down. His next film, Neel Akasher Neechey (Under the Blue Sky, 1958)), earned him local recognition, while his third film, Baishey Shravan ("The Wedding Day", 1960), was the first film that gave him international exposure.
After making five more films, he made a film with a shoestring budget provided by the Government of India. This film, Bhuvan Shome (Mr. Shome, 1969), finally launched him as a major filmmaker, both nationally and internationally. Bhuvan Shome also initiated the "New Cinema" film movement in India.[3]
In many Mrinal Sen movies from Punascha (1961) to Mahaprithivi (1992), Kolkata features prominently. He has shown Kolkata as a character, and as an inspiration. He has beautifully woven the people, value system, class difference and the roads of the city into his movies and coming of age for Kolkata, his El-Dorado.
During this period, he won a large number of international awards. Sen's cinema for the most part does not provide a happy ending or a definitive conclusion (unlike many of the films of Sen's better known contemporary Satyajit Ray). In many of Sen's later films, the audience becomes a participant in the process of the development of the plot. Sen's experimentation with parallel cinema had significantly cost him much of a devoted audience composing of largely the Calcutta-based westernized intelligentsia.
In 1982 he was a member of the jury at the 32nd Berlin International Film Festival. In 1983 he was a member of the jury at the 13th Moscow International Film Festival. In 1997 Sen became the member of the jury at the 20th Moscow International Film Festival.[8]
Mrinal Sen never stopped experimenting with his medium. In his later films, he tried to move away from the narrative structure and worked with very thin storylines. After a long gap of eight years, at the age of eighty, he made his last film, Aamaar Bhuvan ("My Land", 2002).
During his career, Mrinal Sen's films have received awards from almost all major film festivals, including Cannes, Berlin, Venice, Moscow, Karlovy Vary, Montreal, Chicago, and Cairo. Retrospectives of his films have been shown in almost all major cities of the world. He was also elected as the president of the International Federation of the Film Societies. He received the Taj Enlighten Tareef Award which is given for a lifetime contribution to the world of cinema in 2008. He also received the Lifetime Achievement Award at the 10th edition of the Osian's Cinefest Film Festival 2008.
Legendary director Satyajit Ray said 'I am feeling jealous , he probably overtakes us' ( Referring himself & Ritwik Ghatak ) when praising after watching Mrinal Sen's 'Oka Oori Katha' .
Sen had been suffering from age related ailments for many years. He died on 30 December 2018 at the age of 95 at his home in Bhawanipore, Kolkata. The cause was a heart attack.
HYDERABAD FILM CLUB PAYING TRIBUTE TO MRINAL SEN BY SCREENING 3 FLMS
MRIGAYAA   (The royal hunt) on 18 jan 6 pm
(1976/Hindi/Colour/112 mins.)
Directed by : Mrinal Sen
Produced by : K. Rajeshwara Rao
Written by : Mohit Chattopadhyay, Arun Kaul
Camera by : K K Mahajan
Music by : Salil Chowdhury
Starring : Mithun Chakraborty, Mamata Shankar, Robert Wright, Sadhu Meher
The film portrayed the relationship between the British colonialists and native villagers, and their exploitation by Indian landlords in 1920s India. It also depicts the friendship between a British administrator, who has a flair for game hunting, and a native tribal, who is an expert
The plot is set in the 1930s and the film is about a group of tribals who live in a small village in Odisha amidst wild animals like tigers and boars. Apart from the problems faced by the animals that ruin the harvest, they also suffer at the hands of the greedy moneylenders and police informers. Around this time, a newly posted British administrator arrives at the village who happens to be passionate on hunting. He befriends Ghinua, a native tribal who is also an exceptional archer. The two get into a deal where Ghinua will be rewarded if he brings down a "big game".
The story then focuses on Sholpu, a young revolutionary who surreptitiously comes into the village to meet his mother. Knowing this, the police informer chases him down till he reaches his house, but returns after seeing the whole village turn against him. However, he waits for his turn to punish Sholpu. Suddenly there is a robbery in the village and one policeman is killed. The blame falls on Sholpu and the administrator declares a reward for his head. The informer takes the opportunity and kills Sholpu, thereby claiming the reward. Sholpu's death creates a tension between the tribals and non-tribals. During this time, Dungri, Ghinua's wife, is abducted by a moneylender. Ghinua kills the moneylender to bring his wife back. Thinking that the time has come for the "big game", he goes happily to meet the Sahab, the administrator. The Sahab, however, hangs him for committing a murder. Till his death, Ghinua fails to understand why for the same action one is rewarded while the other is punished.
CHALCHTRA  (The Kaleidoscope) on 19 jan 6 pm
(1981/Hindi/Colour/92 mins.)
Directed by : Mrinal Sen
Produced by : Dhiresh Kumar Chakraborty
Written by : Mrinal Sen
Camera : K K Mahajan
Music by : Aloknath Dey
Starring : Anjan Dutt, Utpal Dutt, Arun Mukherjee
A young ebullient and sensitive Calcuttan meets the editor of a leading newspaper and is assigned to 'do' a newsy yet intimate story of his own middle class milieu within two days. The young man, endowed with erratic enthusiasm, sets every bit of situation he comes across to critical analysis, but fails to build a wholesome reportage. Utterly desperate, he even acts as catalyst but with no tangible effect. In a confused state of mind he dreams an absurd dream full of fury and a deep annoyance at the bourgeoisie. What follows is a second meeting with the editor and an inevitable compromise.
KHANDHAR (The Ruins) on 20 jan 6 pm
(1984/Bangla/Colour/106 mins.)
Directed by : Mrinal Sen
Produced by : Jagadish Choukhani
Written by : Mrinal Sen, Premendra Mitra
Music by : Bhaskar Chandavarkar
Camera : K K Mahajan
Starring : Shabana Azmi, Naseeruddin Shah, Sreela Majumdar, Gta Sen,  Pankaj Kapur, Annu Kapoor
Three friends from the city visit some ruins where an aged mother (Gita Sen) and her daughter Jamini (Shabana Azmi) live. Mother awaits the arrival of a distant cousin to marry Jamini, but the man is already married and living in Calcutta. The photographer Subhash (Naseeruddin Shah) takes pity on the family and pretends to be the awaited suitor. The mother dies contented. When the threesome leave again, Jamini stays behind, facing a life of loneliness in the ruins.