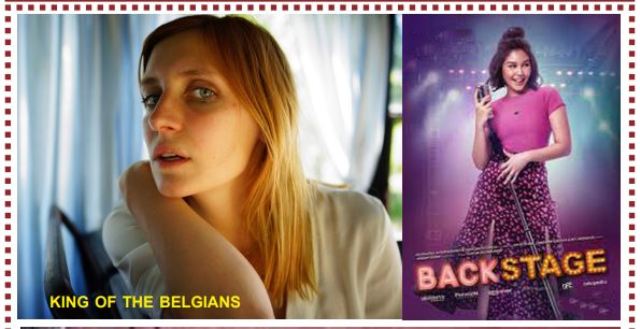 HYDERABAD FILM CLUB &
SRI SARATHI STUDIOS
The Club is happy to announce about restarting of the activities in physical format from this month onwards…
MARCH 2022 PROGRAMME
FILMS DIRECTED BY WOMEN
At Sri Sarathi Studios Preview Theatre, Ameerpet
25-03-2022 6.30 p.m. RUN KALYANI
Friday (Malayalam/2019/100 mins.)
26-03-2022 6.00 p.m. 1. KING OF THE BELGIANS
Saturday (Belgium/2016/93 mins.)
2. BACKSTAGE
(Slovakia/2018/90 mins.)
RUN KALYANI
(Malayalam/2019/100 mins.)
Director & Writer : Geetha J
Music : Sreevalsan Menon
Cinematography : Madhu Neelakandan
Cast : Garggi Ananthan, Meera Nair,
Ramesh Varma, Manoj Menon,
Sathi Premji, Madhu Sir
A gently beguiling debut feature fiction from Geetha J. A poetic and realist drama about
duties, dreams and desires that draws you into the world of Kalyani. Kalyani is a young cook who lives with her ailing aunt and a young man in a rundown agraharam in Trivandrum. Each day is the same as she carries on with her life of duty as a cook
and carer. But each day is not the same too. As the romance of poetry ignites a passion, as the stories of other worlds stirs a desire, as sharks close in and death draws near, Run Kalyani builds into an intense crescendo of grief and grit, sorrow and strength.
KING OF THE BELGIANS
(Belgium/2016/93 mins.)
Directors : Peter Brosens &
Jessica Woodworth
Cinematography : Ton Peters
Written by : Jessica Woodworth,
Peter Brosens
Cast : Peter Van den Begin,
Lucie Debay,
Titus De Voogdt, Brno Georis
King of the Belgians is a 2016 mockumentary comedy film produced, written and directed by Peter Brosens and Jessica Woodworth. It premiered in the Horizons section at the 73rd edition of the Venice Film Festival. It received five nominations at the 8th Magritte
Awards, including Best Flemish Film
While Nicolas III, King of the Belgians, is doing an official visit to Istanbul, breaking news arrives: Wallonia just declared its independence and so Belgium doesn't exist anymore. In order to face the political crisis, Nicolas III decides to quickly come back home, but due to a geomagnetic storm all the flights are blocked. Therefore, the King and his staff decide
to try to reach Belgium overland, but this becomes very difficult. The hard trip becomes not only a desperate (and comical) travel across the Balkans,but also an inner trip where Nicolas III tries to understand who he really is.
BACKSTAGE
(Slovakia/2018/90 mins.)
Director : Andrea Sedlackova
Cinematography : Ton Peters
Written by : Andrea Sedlácková,
Nada Clontz
Cinematography : Tomáš Jurícek, Tomas Stanek
Music : Viktor Hazard, Jan P. Muchow
Cast : Mária Havranová,
Tony Porucha,Dusan Kaprálik,
Ondrej Hraška,
Natália Baloghová
Young dancers from the group of West Coast Crew from a small town called Svit dream of
becoming famous and wealthy one day.The most tenacious is Buddy, who is able to sacrifice almost everything to win. In a dance contest, they are noticed by the acclaimed producer and invited to a dance competition casting that would open their doors to the world of show-business. But the way is full of hard obstacles, and their relationships
and characters will be subject to the pressure of success.
========================================================For update information visit our website
www.hyderabadfilmclub.org…  also visit… http://www.cinevinodam.com