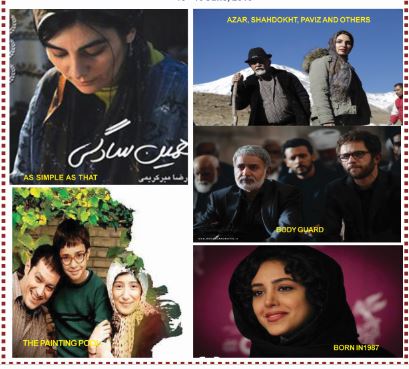 HYDERABAD FILM CLUB & SRI SARATHI STUDIOES
presents
IRANIAN FILM FESTIVAL
in collaboration with
Consulate General of Islamic Republic of Iran, Hyderabad
At Sri Sarathi Studios Preview Theatre, Ameerpet
SCREENING SCHEDULE
 13-06-2019                          6.00 p.m.             Inaugural Function followed by
                                Thursday                               Screening of film 
BODYGUARD
                                                                                (2016/Action, Drama, Thiller/105 mins.)
                                                                                                                Dir. Ebrahim Hatamikia
14-06-2019                          6.00 p.m.             1.  AS SIMPLE AS THAT
              Friday                                                           (2008/Drama/93 mins.)
                                                                                                                     Dir. Reza Mirkarimi
 AZAR, SHAHDOKHT, PAVIZ
                                                  AND OTHERS
                                                                     (2014/Comedy, Drama/92 mins.)
                                                                                                                      Dir. Nacer Khmit
15-06-2019                          6.00 p.m.             1.  THE PAINTING POOL
              Saturday                                                     (2013/Comedy, Drama/96 mins.)
                                                                                                                      Dir. Maziar Miri
       TODAY
                                                                     (2014/Drama/85 mins.)
                                                                                                                      Dirs. Mohsen Gharaie, Afshin Hashemi
16-06-2019                          6.00 p.m.             1.  SCANDAL
              Sunday                                                      (2013/Drama, Comedy/103 mins.)
                                                                                                                      Dir. Habib Nestiri
          BORN IN 1987
                                                                    (2016/Drama, Romance, Thriller/80 m.)
                                                                                                                      Dir. Majid Tavakoli
AS SIMPLE AS THAT
 (2008/Drama/93 mins.)
Director             :  Reza Mirkarimi
Writers              :  Reza Mirkarimi, Shadmehr Rastin
Stars                :  Hengameh Ghaziani, Mehran Kashani, Safa Aghajani
As Simple as That is a 2008 Iranian drama film directed by Reza Mirkarimi. It won the Golden George at the 30th Moscow International Film Festival.  As Simple as That marks a milestone in current Iranian cinema as a rare realist depiction of a woman from the middle class.
'As Simple as That' is the touching portrait of an under-appreciated and unfulfilled woman's loneliness. Tahereh goes about her day, quietly attending to the demands of family and neighbors while her own low spirits go unnoticed. As her sense of isolation becomes more profound, even the brief glimpses of happiness she catches through her children seem to mark her search for meaning in her own life. The film captures Tahereh's emotional state with an understated finesse. Celebrated at multiple film festivals across the world, this is a film of great poignancy and beauty.
AZAR, SHAHDOKHT, PAVIZ AND OTHERS
 (2014/Comedy, Drama/114 mins.)
Director             :  Behruz Afkhami
Writers              :  Behruz Afkhami, Marjan Shirmohammadi
Stars                :  Amirali Danaei, Azadeh Esmaeilkhani, Mehdi Fakhimzadeh
"Azar, Shahdokht, Parviz and Others" is a social drama about the double lives people lead, with the illusion Shahdokht and Parviz have to portray at odds with their life behind the scenes.
Shahdokht who is the wife of the famous actor Parviz, accidentally enters the world of cinema by being cast as an actress in Parviz's last film and becomes a serious rival for him. He becomes jealous of her and their relationship becomes sour. Until their daughter who lives in Europe is suddenly return home without a notice.
BODYGUARD
 (2016/Thriller, Drama/110 mins.)
Director             :   Ebrahim Hatamikia
Writers              :   Ebrahim Hatamikia
Stars                :  Parviz Parastui, Merila Zare'i, Babak Hamidian
A political, action, thriller film, 'Bodyguard' delivers an intriguing and exhilarating narrative. It tells the story of an old war hero assigned with the task of protecting one the country's most important assets: a young genius working at Iran's atomic agency for producing peaceful nuclear energy.
Whilst on duty, he encounters a threat from a suicide bomber. The threat is ultimately dealt with, but forces him to examine both the personal and professional ramifications of the event.
BORN IN 1987
 (2016/Roance,Thriller, Drama/80 mins.)
Director             :  Majid Tavakoli
Writers              :  Majid Tavakoli, Jamileh Daralshafaie
Stars                :  Hengameh Hamidzadeh, Pedram Sharifi, Ehsan Amani
This romantic drama tells the story of dreams and ambitions for a generation of young Iranians who often find those things difficult to come by. In this unique tale of a familiar theme, a young couple assume the role of a much wealthier couple in order to spend their days with Tehran's nouveu riche. The adventure begins with playful games that take the audience on a comic ride but it ends in horror when the young couple find themselves locked up in an apartment, facing a case of mistaken identities. At whole twisted, unpredictable, funny and thrilling, Tavakkoli's film is a masterful, beautifully acted, cleverly composed exercise in building suspense.
SCANDAL
 (2013/ Comedy, Drama/102 mins.)
Director             :  Masoud Dehnamaki
Writers              :  Masoud Dehnamaki
Stars                :  Akbar Abdi, Elnaz Shakerdust, Esmaeel Khalaj
"Scandal" tells the story of Haji Yusef, a cleric living among the ordinary people in a poor district of Tehran. He meets Afsaneh, an infamous woman, who is on the verge of complete moral corruption. Haji Yusef decides to help Afsaneh, but he faces some problems.
THE PAINTING POOL
 (2013/Drama/96 mins.)
Director             :  Maziar Miri
Writers              :  Hamed Mohammadi
Stars                :  Shahab Hosseini, Negar Javaherian, Elham Korda
Maryam (Negar Javaherian) and Reza (Shahab Hosseini) try to do their best in life, but are met with several obstacles due to being mentally challenged. Their son Soheil was born without any defects and initially does not realize how his parents differ from other adults until he begins to grow older. This leads to complications when his teachers request that his mother come to school for a parent-teacher conference, as Soheil is afraid that his parents will humiliate him. As a result Soheil spends more and more time with Amirali, his teacher's son, and eventually moves in with them after his father loses his job.
TODAY  
(2014/Drama/85 mins.)
Director             :  Reza Mirkarimi
Writers              :  Reza Mirkarimi,
Stars                :  Asiyeh, Soheila Golestani, Roozbeh Hesari
A taxi driver takes a young woman at a small Iranian hospital. As long as he gets there he realizes that he must take crucial decisions that may change his life.
Today is a 2014 Iranian drama film. It was screened in the Contemporary World Cinema section at the 2014 Toronto International Film Festival.