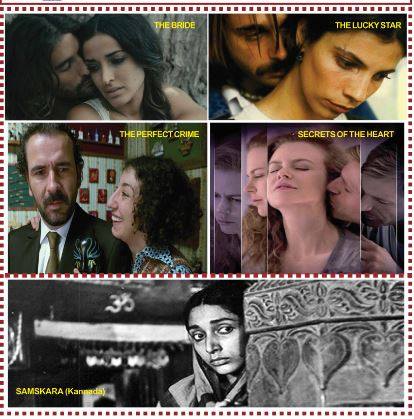 HYDERABAD FILM CLUB
FEBRUARY 2019 – PROGRAMME
At Sri Sarathi Studios Preview Theatre, Ameerpet
SPANISH FILM FESTIVAL
06 -02-2019     6.30 p.m.        THE BRIDE            
Friday                                      (2015/96  mins.)
 07-02-2019     6.30 p.m.        THE LUCKY STAR      
Friday                                      (1997/110  mins.)
08-02-2019      6.30 p.m.        THE PERFECT CRIME
Friday                                      (2004/105  mins.)
09-02-2019      6.30 p.m.        SECRETS OF THE HEART                       
Saturday                                  (1997/105  mins.)
19-02-2019      6.00 p.m.        SAMSKARA                         
Tuesday                                   (Kannada with EST/1970/113 mns.)
THE BRIDE  (La novia)
(Spain/2015/96 mins.)
Director             :  Paula Ortiz
                             Lorca Paula Ortiz
Camera             :  Migue Amoedo, Music :  Shigeru Umebayashi
Based on "Bodas de sangre" by Federico García Lorca, tells the story of a love triangle between two men and a woman. Two lovers carried away by their passion defying all moral and social rules even challenging their own judgment. The same day of her wedding, the bride and her lover escape on horseback to live their love. Their disobedience will have devastating consequences.
THE LUCKY STAR  (La Buena estrella)
(Spain/1997/110 mins.)
Writers              : Ángeles González Sinde,
Ricardo Franco, Alvaro del Amo
Camera             :  Tote Trenas,Music :  Eva Gancedo
Rafael witnesses Marina – a woman with a glass eye – being attacked on the street by Daniel; her long-time acquaintance since the orphanage, where they were both raised as kids. He rescues her from Daniel and brings her to his home, where a relationship between them soon develops. Marina is pregnant, but since Daniel does not want the child, Rafael offers to step in as the father, having his own physical problems, preventing him from having kids. He and Marina stays together as a couple, and as a family. But once everything seems to be settled, Daniel – released from prison – shows up again.
THE PERFECT CRIME

 (El crimen ferpecto)
(Spain/2004/Comedy/105 mins.)
Director             :  Alex de la Iglesia
Music               :  Roque Baños, Camera  : José L. Moren
Rafael is a women's clothing clerk at a large Madrid department store, Yeyo's. His department is filled with beautiful, comely young women whom Rafael routinely seduces. When Rafael vies for a management position with Don Antonio, a men's clothing clerk whom Rafael despises, a fluke causes Don Antonio to win the promotion. He fires Rafael and a fight ensues in which Rafael accidentally kills Don Antonio. Lourdes, an ugly and unassuming clerk at the store, witnesses the outcome of the fight, helps Rafael incinerate the body, and provides an alibi for the police. Rafael wins his coveted promotion, but at a terrible cost: Lourdes blackmails Rafael into an unwanted relationship. He is forced to fire his many former lovers, to marry Lourdes (she proposes on a live reality TV show) and to support clown-like women's clothing of her design. Rafael becomes so depressed he begins to hallucinate, seeing the ghost of Don Antonio who suggests Rafael should kill Lourdes. As the police are also pressing him again, he causes a fire in the department store and fakes his death, in front of his wife and a police officer. Five years later, he (with a false identity) has a small business selling ties and socks, but Lourdes' clown-like clothes are a success and she becomes a millionaire.
SECRETS OF THE HEART

(Secretos del corazon)
(Spain/1997/105 mins.)
Camera            :  Javier Aguirresarobe,Music :  Bingen Mendizábal
 Javi and his friend Carlos snoop around an old house on the way home from school. According to his brother Juan this is a haunted house and one can hear the voices of the dead. Later he is intrigued with a room which is always closed (the room where his father was found dead). He is so interested in these mysteries that he starts to investigate all the secrets of these dead people and their stories
PATTABHIRAMA REDDY TIKKAVARAPU
Pattabhirama Reddy Tikkavarapu, (19 February 1919 – 6 May 2006) was an Indian film screenwriter, producer, director, social activist, poet, and writer known for his pioneering works in Telugu cinema, and Kannada cinema.He was born in Nellore, Andhra Pradesh. He studied at Shantiniketan, Calcutta University and Columbia University. He was married to Snehalata Reddy,  Pattabhirama Reddy died on 6 May 2006, at the age of 86.Reddy has received four National Film Awards for his works.  In 1972 he produced and directed Samskara which garnered the National Film Award for Best Feature Film and Bronze Leopard at the Locarno International Film Festival. Reddy has actively participated the Indian Emergency opposition movement, human rights movement, and child labor movements as founder member of People's Union for Civil Liberties. In 1977, he produced and directed the bilingual Chandamarutha in Kannada, and English. The film was banned during the Emergency, and was later released to critical appreciation.
FIILMOGRAPHY
 As producer
As producer and director
Samskara(1970)
Chanda Marutha (1977)
Devara Kaadu (1993)
Sringara Masa (1984)
SAMSKARA 

(Funeral Rites)
(Kannada with EST/1970/113 mins.)
Director             :  Pattabhirama Reddy
Producer           :  Pattabhirama Reddy
Written by         :  U.R. Ananthamurthy
Screenplay        : Girish Karnad,
Pattabhirama Reddy
Alvaro del Amo
Music               :  Rajeev Taranath
Camera             :  Tom Cowan
                            P. Lankesh, Pradhan, Dasharathi Dixit,
                            Lakshmi Krishnamurthy
Samskara (Funeral Rites) is said to have been a path-breaking venture and is supposed to have pioneered the parallel cinema movement in Kannada.Samskara was initially banned by the Madras Censor Board before being revoked by the Union Ministry of Information and Broadcasting, because it was felt that the strong anti-caste message being conveyed could spark tensions among the public. However, it was released later and went on to win awards at national and international levels.
Naranappa, a man born in the community of Madhwa (A community of Brahmins from Karnataka) is dead in the Agrahara of the village Durvasapura. As per the Madhwa customs, the last rites of the dead man has to be performed at the earliest. But, Naranappa was a rebel who fought against Brahminism, who ate meat, consumed liquor and also, married a Dasi (a prostitute). Since, he doesn't have any family, there is some confusion as to who will do the last rites and fire the funeral pyre. Praneshacharya, the head of the Agrahara, a devout and learned Brahmin, is tasked with providing the solution