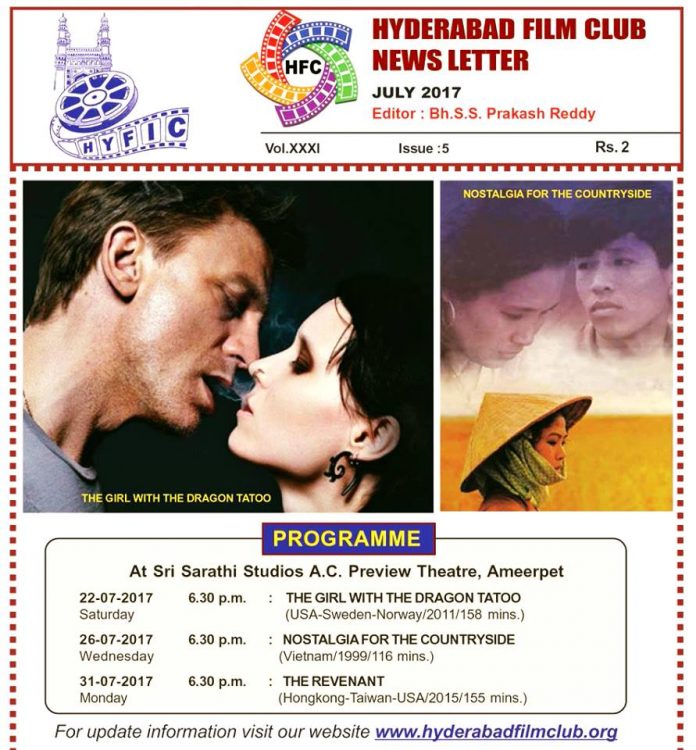 HYDERABAD FILM CLUB & SRI SARADHI STUDIOS
JULY  PROGRAMME
At Sri Sarathi Studios Preview Theatre, Ameerpet
            22-07-2017   6.30 p.m.       :   THE GIRL WITH THE DRAGON TATOO
Saturday                                    (USA-Sweden-Norway/2011/158 mins.)
            26-07-2017    6.30 p.m.       :  NOSTALGIA FOR THE COUNTRYSIDE
Wednesday                               (Vietnam/1999/116 mins.)
            31-07-2017   6.30 p.m.       :  THE REVENANT
Monday                               (Hongkong-Taiwan-USA/2015/155 mins.)
THE GIRL WITH THE DRAGON TATOO
(USA-Sweden-Norway/2011/158 mins.
Director             :  David Fincher
Stars                :  Daniel Craig, Rooney Mara, Christopher Plummer
This English-language adaptation of the Swedish novel by Stieg Larsson follows a disgraced journalist, Mikael Blomkvist (Daniel Craig), as he investigates the disappearance of a wealthy patriarch's niece from 40 years ago. He is aided by the pierced, tattooed, punk computer hacker named Lisbeth Salander (Rooney Mara). As they work together in the investigation, Blomkvist and Salander uncover immense corruption beyond anything they have ever imagined.
AWARDS WON
 2012
Best Music or Score –Alliance of Women Film Journalists Awards 2011
Best Editing –Broadcast Film Critics Association Awards.
Best Adapted Screenplay –Central Ohio Film Critics Association Awards.
Best Film Editing–84th Academy Awards
Best Horror Film.-38th Saturn Awards.
2011
 Breakthrough Performance-National Board of Review Awards
Best Actress & Best Scene –St. Louis Gateway Film Critics Association Awards.
THE REVENANT
(Hongkong-Taiwan-USA/2015/155 mins.)
Director             :  Alejandro González Iñárritu 
Stars                :   Leonardo DiCaprio, Tom Hardy, Will Poulter
While exploring the uncharted wilderness in 1823, legendary frontiersman Hugh Glass sustains injuries from a brutal bear attack. When his hunting team leaves him for dead, Glass must utilize his survival skills to find a way back home while avoiding natives on their own hunt. Grief-stricken and fueled by vengeance, Glass treks through the wintry terrain to track down John Fitzgerald, the former confidant who betrayed and abandoned him.
AWARDS:
The film received positive reviews from critics, with the performances, direction and cinematography receiving praise. The Revenant won three Golden Globe Awards, five BAFTA Awards and at the 88th Academy Awards, Iñárritu, DiCaprio and Emmanuel Lubezki won the awards for Best Director, Best Actor and Best Cinematography, respectively. DiCaprio also won the Golden Globe Award for Best Actor – Motion Picture Drama, Screen Actors Guild Award for Outstanding Performance by a Male Actor in a Leading Role, Critics' Choice Movie Award for Best Actor and BAFTA Award for Best Actor in a Leading Role.
NOSTALGIA FOR THE COUNTRYSIDE
(Vietnam/1999/116 mins.)
Director             :  Dang Nhat Minh
Set in a rice-growing village in Việt Nam, this is a tale of the crossroads where stories flow together like small rivers of sorrow. 17-year-old Nham has left school to care for his widowed mother, his little sister Minh, and his sister-in-law Ngu. Ngu, whose husband left to work in a coal mine five years ago and has only come home twice for a few days, lives in daily sadness and with a deep longing for him and a complete life. Nham and his family are visited by Quyen, who has come from America to revisit the village where she was raised by her aunt, Nham's relative. Quyen shares her nostalgia for her childhood with Nham as she remembers the places and the life she left before leaving her bad marriage. As Nham befriends her, his sexuality is awakened by her attractive personality and vivacious good looks. Ngu sees this attention being paid to Quyen by Nham and harbors a quiet jealousy. As Nham opens to his sexual feelings, his embarrassment drives him from Quyen, but his sexuality is further awakened by innocent comfort given to Ngu. NOSTALGIA FOR THE COUNTRYSIDE sweeps us through strong emotions as we experience the characters' heartbreaks and sorrows.
For update information visit our website www.hyderabadfilmclub.org