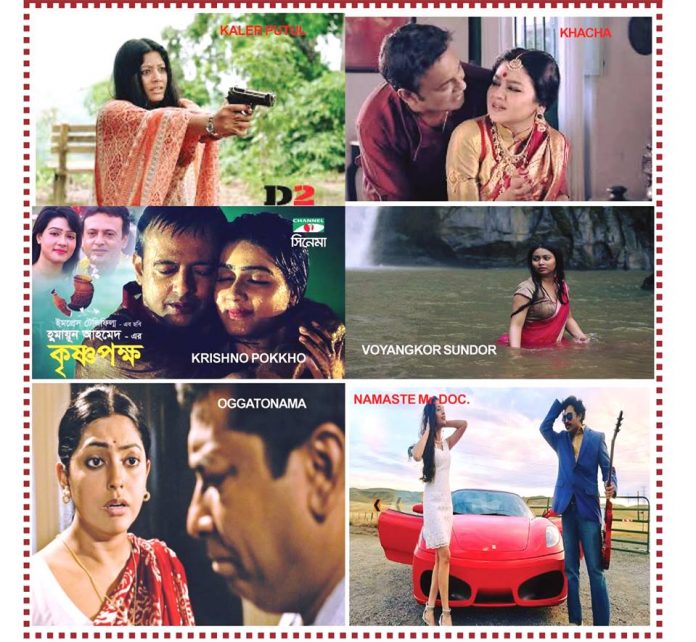 HYDERABAD FILM CLUB & SRI SARATHI STUDIOS
At Sri Sarathi Studios Preview Theatre, Ameerpet
BANGLADESH FILM FESTIVAL
Federation of Film Societies of India (SR)
12-10-2018

5.00 pm : 1. KALER PUTUL (2017/125 mins.)
Friday (Eng: Dangling by a String)
7.15 pm 2. KHACHA (2017/110 mins.)
(Eng: The Cage) Dir. Akram Khan
13-10-2018 5.00 pm : 1. KRISHNO POKKHO (2016/127 mins.)
Saturday (Eng:The Dark Fortnight)
7.15 pm 2. VOYANGKOR SUNDOR (2017/106 mins.)
(Eng: Killing Beauty) Dir. Animesh Aich
14-10-2018 4.00 pm : 1. OGGATONAMA (2016/93 mins.)
Sunday (Eng: The Unnamed) Dir. Tauquir Ahmed
5.45 pm 2. DRESSING TABLE (2016/86 mins.)
7.15 pm 3. TO BE CONTINUED (2017/97 mins.)
# All films are with English Sub-titles.
——————————————————————————————————
20-10-2018 6.00 pm : NAMASTE Mr. DOC.
Saturday (Telugu/2018/122 mins.)
Dir. Dr. Anju Krish (Dr. Bhanu)
(Bangladesh/2018/125 mins.)
Writer : Nasiful Walid (screenplay)
Stars : Ferdous Ahmed, Shahed Ali, Raisul Islam Asad
When 10 apparent strangers are invited to an estranged guest house, a caretaker receives them instead of the host, who leaves a message accusing each one of the guests of being a murderer. The message ends with an ominous note demanding death penalty for their crimes.
The latest feature film from Impress Telefilm, "Kaler Putul," which premieres on March 30, opens with this promising hook. The film stars an ensemble cast with A-list actors like Ferdous Ahmed and Raisul Islam Asad. Inspired by Agatha Christie's 1939 mystery novel "And Then There Were None".
(Bangladesh/2016/110 mins.)
Writer : Hasan Azizul Haque (story), Akram Khan (screenplay)
Stars : Jaya Ahsan, Azad Abul Kalam, Mamunur Rashid
Bangladesh has selected Akram Khan's "Khacha" as its entry to the foreign language category at the 90th Academy Awards.
Set in 1947, in the aftermath of partition, "Khacha" follows the plight of a Hindu family in East Pakistan moving to India. "Though the film is about the huge number of Hindus who had to leave all their belongings in Pakistan during the partition of India in 1947, the film's message also portrays the recent incidents of Rohingya issues. Overall the film is about migratory people.
(Bangladesh/2016/127 mins.)
Director : Meher Afroz Shaon
Stars : Riaz, Mahiya Mahi, Ferdous Ahmed. Azad Abul Kalam
Krishnopokkho is a romance drama film based on novel of the same name written by Humayun Ahmed. This is the debut fiction film by the director. The film had its closing premiere at the 11th Geneva International Oriental Film Festival (FIFOG) on April 17, 2016. In May 2016, the film had its opening premiere at 17th Rainbow Film Festival at London.
Muhib lost his parents at a early age and brought up by his sister. After the marriage of his sister Jeba, he comes along with his sister in his brother-in-law's house. He grows up with strict rules by his brother-in-law. But for the sake of his sister's happiness, he bears all of this. Muhib is in a deep relationship with Oru. They married each other in a court with the presence of his friends. But they cannot stay together as Muhib has to leave the town for his job. Muhib dreams for a new life with Oru but a mishap changes everything.
• Bangladesh National Film Awards 2016
• Best Actress in a Supporting Role
• Best Female Playback Singer
(Bangladesh/2017/106 mins.)
Writers : Moti Nandi (novel), Animesh Aich (screenplay)
Stars : Ashna Habib Bhabna, Parambrata Chatterjee, Faruk Ahmed
Voyonkor Sundor is a 2017 Bangladeshi film starring Indian actor Parambrata Chatterjee and Bangladeshi actress Ashna Habib Bhabna in her debut role opposite him. Director Animesh Aich made it from Indian writer Moti Nandi's novel "Joler Ghurni O Bokbok Shobdo". The director labelled it as a pure literary adaptation and an original film. Its musical score has been composed by Asif Iqbal
Incidentally, an innocent couple Muku and Nayontara, lives in an area of Dhaka city where supply of drinking water is limited. In summer, water supply is ceased for a few days. Local dwellers stored some water for emergency but Muku and Nayontara have no water at all. So they beg water to every door. Nobody give them water but beat Nayontara mercilessly. Nayontara becomes revengeful and takes her revenge in different way.
(Bangladesh/2016/93 mins.)
Stars : Shahiduzzaman, Selim, Mosharraf, Karim, Nipun
Kifayet Uddin's son went abroad six month earlier but has no communication since last month. OC of the nearest police station has the news of a death of expatriate worker. He goes to the house to inform his guardian but found that person alive in another country. He finds Ramjan Ali responsible for this. He is connected human trafficking with fake passport who sent Kifayet's son in place of Wahab. Ramjan clears everything about this hustle and takes the responsibility of the corpse. Ramjan, Kifayet and Rahman bring the corpse to home but find a different corpse in the coffin
Selected as the Bangladeshi entry for the Best Foreign Language Film at the 89th Academy Awards,
Bangladesh National Film Awards 2016 – Best Film, Best Actor in a Negative Role, Best Story
(Bangladesh/2016/86 mins.)
Stars : A.K. Azad, K.S. Firoz, Khalilur Rahman Kaderi
Dressing Table is a supernatural horror film written & directed by Abu Sayeed.
Shila and Rahul have been married recently. Being a lower-middle-class family, they could not afford to get all the things needed to furnish a house. There is no dressing table in the house. One day Rahul brings an old dressing table. Albeit an old one, Shila is still happy with it. Next day while cleaning the dressing table she finds an old diary. At first Shaila hesitates about whether she should read the diary as it belongs to someone else, but one night she gives in to her curiosity. After finding the first 2/3 pages interesting, she ends up reading the whole diary by the end of the night. After finishing the diary, Shila walks towards the dressing table. She looks at the mirror and discovers herself. Then starts a new chapter in her life.
(Bangladesh/2017/97 mins.)
Director : Iftekhar Ahmed Fahmi
Writer : Iftekhar Ahmed Fahmi
Stars : Mita Chowdhury, Robytul Chowdhury, Iftekhar Ahmed Fahmi
A son of a very good father and mother. Like the other boys of present times. All day friends and friends, busy flirting chatting with them. A girl who falls in love with his humor while giving a job interview. In this way his life was going on for fun. One day, his father forced him and his mother out of the house blamed as an illegitimate son. What happened next?
——————————————————————————————————
Production Banner : Anjanaa Production LLC -Puneet Sandhu
Directors .. : Sir Henri Cheung &
Dr. Arjun Krish (Dr. Bhanu Prakash – for medical and hospital scenes)
Cast .. : Dr. Arjun Krish (Dr. Bhanu – Debut film in Tollywood)
Dr. Zeena Sandhu (Debut film in Tollywood)
Music by .. : "Tolly Talents" group.
Music/Composition : Phani Kasibhotla and Henri Cheung, Kal Bernhardt .
Lyrics .. : Phani Kasibhotla, Chandana , Dr. Arjun Krish and Dr. Ram Kesari .
Singers .. : Chandana, Dr. Arjun Krish ( Dr. Bhanu ) , Phani Kashibotla & Sesha Venkatraman
Released on: 25th August 2018 in Bay Area, California . It ran for 3 weeks in theatres in Bay Area, California.
Short Description: Message of the movie is to Live, Laugh and Love in the journey of life. It's a musical romantic comedy with a spice of suspense thriller. 4 melodious Telugu songs in the movie.
Specialties of the movie:
• First Telugu movie to be completely filmed in San Francisco/ San Jose – Bay Area, California, USA
• First movie where the real life doctors (both hero & heroine) acted as reel life doctors.
• Fresh Music, Awesome locations/views of spectacular California – Bay Area – San Francisco.
• All 4 Telugu songs are melodious – with great visuals
• Nice comedy through other Telugu supporting casts of Bay Area, California, USA
• Lots of suspense and drama
• Professional Hollywood actors also acted in this movie.