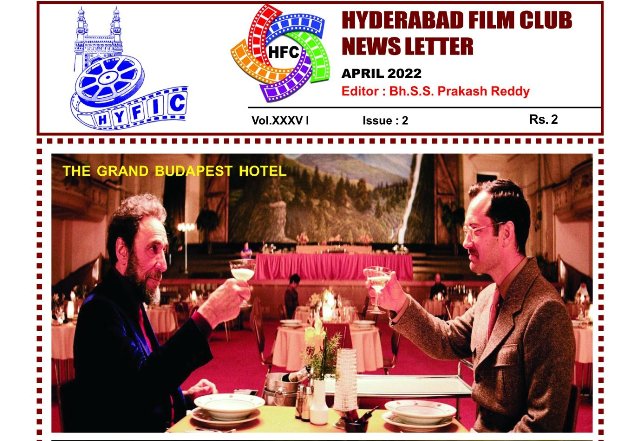 HYDERABAD FILM CLUB APRIL 2022 PROGRAMME
At Sri Sarathi Studios Preview Theatre, Ameerpet
 22-04-2022             6.30 p.m.    TUNNEL
Friday                      (South Korea/2016/127 mins.)
23-04-2022             6.30 p.m.    

THE GRAND BUDAPEST HOTEL
Saturday                (USA-Germany/2014/100 mins.)
visit our website
Also visit
=======================================================JOIN AS A MEMBER in HYDERABAD FILM CLUB "TO SEE THE BEST OF WORLD CINEMA EVERY MONTH" MEMBERSHIP OPEN FOR 2022
THE GRAND BUDAPEST HOTEL (USA-Germany/2014/100 mins.)
Director                        : Wes Anderson
Screenplay        :           Wes Anderson
Cast                 :           Ralph Fiennes, F. Murray Abraham, Mathieu Amalric, Adrien Brody
Cinematography:           Robert Yeoman
The Grand Budapest Hotel is a 2014 comedy-drama film.
This movie recounts the adventures of M. Gustave), a legendary concierge at a famous European hotel between the wars, and Zero Moustafa the lobby boy who becomes his most trusted friend. The story involves the theft and recovery of a priceless Renaissance painting and the battle for an enormous family fortune – all against the backdrop of a suddenly and dramatically changing continent.
The Grand Budapest Hotel premiered in competition at the 64th Berlin International Film Festival on February 6, 2014. The film received widespread acclaim for its craftsmanship, acting, and comedy; occasional criticism centered on the film's approach to the subject matter, fragmented storytelling, and characterization The film was nominated for nine awards at the 87th Academy Awards, winning four awards, and earning several other accolades chiefly for writing and technical achievement.
TUNNEL (South Korea /2016/127 mins.)
Director                        :           Kim Seong-hun
Screenplay        :           Kim Seong-hun
Cast                 :           Ha Jung-woo, Bae Doona, Oh Dal-su
Cinematography:           Kim Tae-seong
Lee Jung-soo is driving home for his daughter's birthday. While driving  through a tunnel through a mountain, the tunnel collapses. When Lee Jung-Soo regains consciousness, he finds himself trapped inside his car, which is buried under tons of concrete and debris. All he has inside the car are his cell phone, two bottles of water, and his daughter's birthday cake.
South Korea is horrified by the news of the collapse of a large tunnel. The government urgently sets up an accident task force. Daekyung the rescue captain of the accident task force, makes various attempts to enter the tunnel, but the structure is only slow. Meanwhile, Jeong-su's wife Se-hyun delivers hope to her husband through the radio, which Jung-su can only hear, and does not give up hope for his safe life. The sluggish rescue operation will eventually cause a major setback in the completion of the second tunnel nearby, and public opinion begins to divide over the survival and structure of the essence.