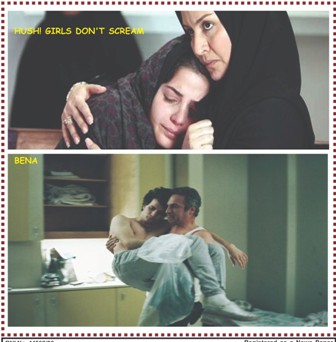 HYDERABAD FILM CLUB
AUGUST 2022 PROGRAMME
AT SRI SARATHI STUDIOS PREVIEW THEATRE, AMEERPET
26-08-2022 6.30 p.m. HUSH! GIRLS DON'T SCREAM
Friday (Canada/2017/91 mins.)
27-08-2022 6.30 p.m. BENA
Saturday (Israel/2009/90 mins.)
For information visit www.cinevinodam.com
====================================================
HUSH! GIRLS DONT SCREAM 
(Iran/2013/110 mins.)
Director : Pouran Derakhshandeh
Writer : Pouran Derakhshandeh
Producer : Pouran Derakhshandeh
Cast : Tannaz Tabatabaei,  Shahab Hosseini  and  Merila Zarei .
Cinematography: Morteza Poursamadi
Hours before her scheduled marriage, young bride-to-be Shirin murders a man. The crime is completely unexpected and goes against everything we know of her. We learn that Shirin has had two unsuccessful marriage attempts, and is deeply psychologically troubled. But as the dark secrets in her past are slowly revealed, exposing a childhood of neglect, abuse, and the tragic history of two previous failed marriages, the characters must face their own battles with justice, retribution and morality. "Hush! Girls Don't Scream" was screened at many international events and won several prizes.
The film screened at International Family Films Festival in the Turkish capital Ankara.
Won the Best Film Award of Iran's Fajr International Film Festival in 2012. It has also been in numerous international events in Europe and North America.
Pouran Derakhshandeh, who has directed 12 feature-length movies and dozens of
documentaries over the past four decades, is one of Iran's most successful female filmmakers.
BENA
(Israel/2009/90 mins.)
Director : Niv Klainer
Writer : Niv Klainer
Cast : Dafina Annoni, Niv Klaimer,
Michael Moshonov
Camera : Itay Marom
Middle-aged health worker Amos takes care of mentally ill people. He's a widower who lives
with his mentally-disabled son Yurik. One day while treating a patient, Amos meets an illegal Thai immigrant named Bena. Rather than turn her in, Amos brings the quiet young womanhome. Bena helps Amos care for Yurik and she gradually becomes part of their household.
Mutual affection begins to develop between Amos and Bena, which Yurik has a hard time
accepting. The disabled young man starts to abuse Bena and she finds herself in a trap.
Screenwriter and director Niv Klainer has shot an intimate relationship drama founded upon the accurately-portrayed, erratic behavior of a mentally disabled person.