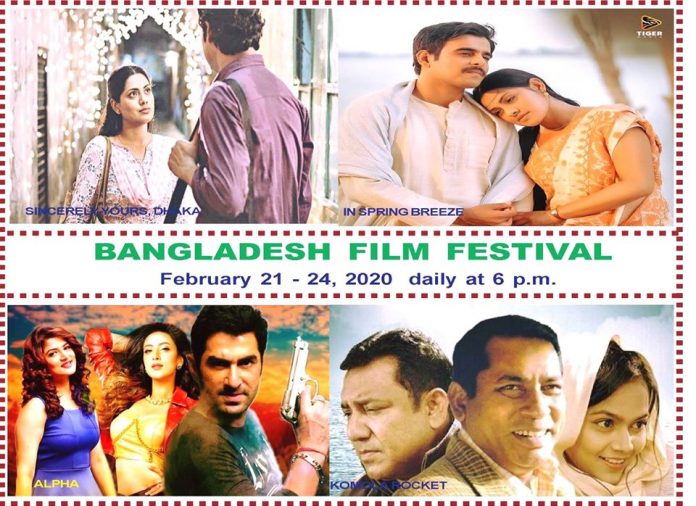 HYDERABAD FILM CLUB
FEBRUARY 2020 – PROGRAMME
BANGLADESH FILM FESTIVAL
ON THE OCCASION OF INTERNATIONAL MOTHER LANGUAGE DAY
21-02-2020 6.00 P.M.

IN SPRING BREEZE
Friday (2019/ Drama, Family, History/136 mins.)
22-02-2020 6.00 P.M.

KOMOLA ROCKET
Saturday (2018/Drama/95 mins.)
23-02-2020 6.00 P.M.

SINCERELY YOURS, DHAKA
Sunday (2018/Drama/134 mins.)
24-02-2020 6.00 P.M.

ALPHA
Monday (2019/Drama/90 mins.)
(Bangladesh/2018/Drama/134 mins.)
Directors : Tanvir Ahsan, Saleh Sobhan Auneem,
Mir Mukarram Hossain, Golam Kibria,
Abdullah Al Noor, Robiul Alam Robi,
Krishnendu Chattopadhyay, Nuhash Humayun,
Mahmudul Islam, Rahat Rahman,
Written by : Rahat Rahman
Cast : Fazlur Rahman Babu, Nusrat Imrose Tisha,
Allen Shubhro, Orchita Sporshia, Iresh Zaker,
Gousul Alam Shaon, Mostafa Monwar,
Manoj Pramanik, Intekhab Dinar
Iti, Tomari Dhaka (Sincerely Yours, Dhaka in English) is a 2018 Impress Telefilm drama film produced as Bangladesh's first anthology film directed by eleven individual directors. It was awarded "Best original screenplay" at the 11th edition of the Jaipur International Film Festival (JIFF), held from January 18 to 22 in Jaipur, India. It was filmed on location in Dhaka, Bangladesh.
In this omnibus, 11 Bangladeshi filmmakers create a love letter to the city of Dhaka. From young girls looking for a drink in a dry town to a bank scammer's attempted murder to a plumber creating a refugee crisis, the city co-stars every time.
(Bangladesh/2019/Drama, Family, History/136 mins.)
Directors : Tauquir Ahmed
Written by : Tito Rahman, Tauquir Ahmed
Cast : Nusrat Imrose Tisha, Siam Ahmed, Yashpal Sharma
Fagun Haway (Bengali: ফাগুন
‍
হাওয়ায় – English: In Spring Breeze) is a Bangladeshi historical drama film based on the novel Bou Kotha Kou by Tito Rahman. This movie based on the language movement during 1952 in East Pakistan. This was the sixth film directed by Tauquir Ahmed simultaneously released in February 2019.
Bangladesh Federation of Film Societies (BFFS) nominated this film for the Best International Feature Film category at the 92nd Academy Awards.
"Fagun Haway" (In Spring Breeze) is the latest film by renowned Director and Actor Tauquir Ahmed based on the story " Bou kotha Kou " written by Tito Rahman . Based on the 1952 Language Movement, the film depicts the story of a romance amidst the backdrop of a district town during the blazing days of February. Tauquir's "Fagun Haway" brings a stellar cast to potray the story – Nusrat Imrose Tisha and Siam Ahmed are in the leading roles – supported by veteran actors Abul Hayat , Yashpal Sharma ( from India ) , Fazlur Rahman Babu and Rownok Hasan .
The art direction is specially striking in this film creating an authentic aura of the 50's throughout the movie . The cinematography is also captivating, and the song by Sukonna and Pintu Ghosh – " Tomake Chai " has gone viral on the internet already. 21st February has long been an integral part of the Bengali psyche because the movement was to establish Bangla as the official State language in 1952, and is celebrated every year with a "provat pheri" – laying flowers at the Shaheed Minar in Dhaka to commemorate the movement. In November 1999. UNESCO declared 21st February as the Official International Mother Language Day (IMLD) for the protection of all mother languages in the world in honor of this movement. The Film is totally sub-titled in English . "Fagun Haway" is produced by Impress Tele Films and distributed in Canada by RS-MEDCOM Group Production in association with Bioskope Films (USA).
(Bangladesh/2019/Drama, Crime/90 mins.)
Directors : Nasiruddin Yousuff
Written by : Nasiruddin Yousuff
Cast : Alamgir Kabir, Dilruba Hossain Doyel,
Alpha is a 2019 Bangladeshi film starring Alamgir Kabir, Doyel Mash and ATM Shamsuzzaman in lead roles. It is the third direction of Nasiruddin Yousuff. It is the submission of Bangladesh to the 92nd Academy Awards for the Academy Award for Best Foreign Language Film, but it was not nominated.
A 40 year old painter, who lives in a wooden and bamboo house on stilts in the middle of a polluted lake on the outskirts of Dhaka City. Alpha's house serves as his painting. Dogs, roosters and birds also share the space with him. There are many moments when he feels a oneness with nature and with the birds and animals that surround him. He also feels deeply drawn to 'an androgynous' male-female identity. Alpha has neighbors in the nearby slum with whom he has close interaction.
(Bangladesh/2018/Drama/95 mins.)
Directors : Noor Imran Mithu
Written by : Shahaduzzaman
Cast : Mosharraf Karim, Tauquir Ahmed, Samia Syed
This is the story of a steamer, named in English, 'The Orange Ship'. The people from Khulna to the steamer's passengers, their story is in the orange rocket. But this is not only just individual stories of many people in steamers, but also it has become the story of recent Bangladesh. There are people of all upper-class and lower-class. They are unfamiliar, but there are mutual contributions. Aatik is the representative of the upper class, traveling in the first class cabin, or the name of a steamer, orange rocket. There are also some other interesting characters like Monsur (come from a lower class family), a rich family with their adventures sister, and Mofiz