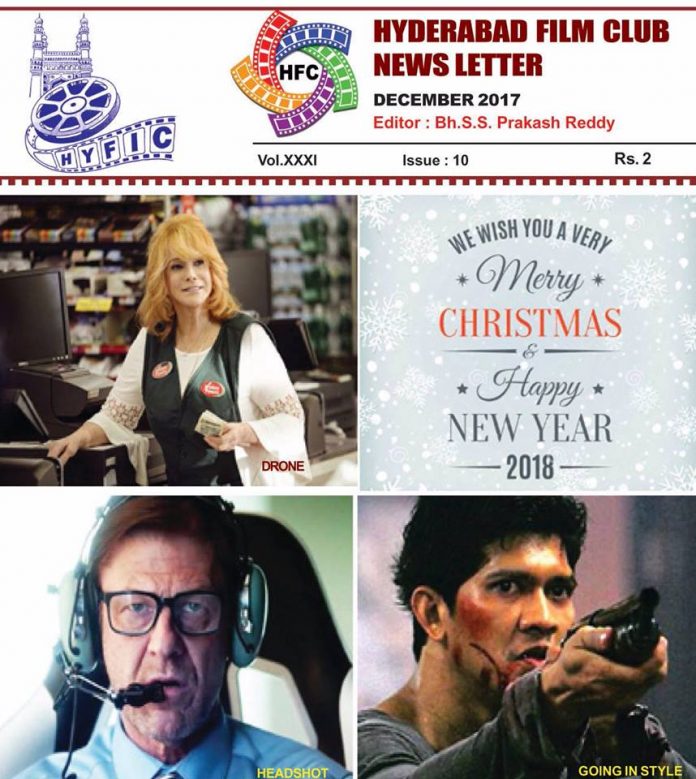 HYDERABAD FILM CLUB    
                                             DECEMBER 2017 PROGRAMME
                              At Sri Sarathi Studios Preview Theatre, Ameerpet
14-12-2017             6.00 p.m.      :   DRONE
Thursday                                              (Canada/2017/91 mins.)
23-12-2017                         6.00 p.m.     :  HEADSHOT
Saturday                                                 (Indonesia/2016/118 mins.)
30-12-2017                         6.00 p.m.      :   GOING IN STYLE
Saturday                                                   (USA/2017/96 mins.)
DRONE (Canada/2017/91 mins.)
 Directed by       ..          : Jason Bourque
Screenplay by   ..          : Paul A. Birkett, Jason Bourque
Cast                 ..          : Sean Bean, Patrick Sabongui,
Joel David Moore, Mary McCormack
Drone is a 2017 Canadian thriller film premiered at the 2017 Vancouver Film Festival in April
Neil (Sean Bean) is a private drone contractor who spends his workdays flying covert missions then returns to a family life of suburban mediocrity – without his wife or son knowing about his secret life and Neil wife is cheating with one of co -worker – until a whistle-blowing site exposes him to a deadly threat. Believing he is responsible for the deaths of his wife and child, an enigmatic Pakistani businessman (Patrick Sabongui) tracks him down, leading to a harrowing confrontation.
HEADSHOT (Indonesia/2016/118 mins.)
 Directed by       ..          : Kimo Stamboel and Timo Tjahjanto.
Written by         ..          : Timo Tjahjanto
Cast                 ..          : Iko Uwais, Chelsea Islan,
Very Tri Yulisman, David Hendrawan
Headshot  was released on September 9, 2016, at the Toronto International Film Festival.
The film was screened in Fantastic Fest, Austin-2016 and at Beyond Fest-2016 in Los Angeles. It was also screened at Mayhem Film Festival-2016 and at the 30th Leeds International Film Festival-2016.
After months in a coma from a gunshot wound to the head, a mysterious young man (Iko Uwais) is nursed back to health by a young student-doctor, Ailin. Realizing that the man has lost his memory and identity, the two quickly grow closer not realizing that behind their momentary peace lays danger. Soon their lives collide with a gang of dangerous criminals led by an enigmatic crime lord – and with every violent confrontation, his memory brings him closer to a dark truth as the lethal personality awakening within him starts to reveal who he really is.
AWARDS
Headshot was nominated The Grand Prix Nouveau Genre Award in L'etrange Festival Paris 2016 for International Feature Film category and shared the award with Italian film They Call Me Jeeg Robot.
In local awards, the film through Andi Novianto was awarded Best Visual Effects at the 2016 Indonesian Film Festival.
GOING IN STYLE (USA/2017/96 mins.)
 Directed by       ..          : Zach Braff.
Screenplay by   ..          : Theodore Melfi
Cast                 ..          : Morgan Freeman, Michael Caine,
Alan Arkin, Joey King, Matt Dillon,
Christopher Lloyd, Ann-Margret
A reboot of the 1979 movie that was directed by Martin Brest and featured George Burns, Art Carney, and Lee Strasberg. Three seniors, who are living social security check to check and even reduced to eating dog food at times, decide they have had enough. So, they plan to rob a bank…problem is, they don't even know how to handle a gun! A social commentary on growing old in America and what we are sometimes driven to, due to circumstances.