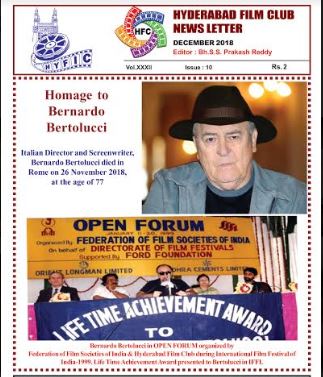 HYDERABAD FILM CLUB
at Sri Sarathi Studios Preview Theatre, Ameerpet
12-12-2018 6.00 pm : THE DREAMERS Wednesday (Italy-UK-France-US/2003/115 mins.)
26-12-2018 6.00 pm : THE LOST CITY OF Z Wednesday (USA/2016/141 mins.)
28-12-2018 6.00 pm : ON THE EDGE Friday (Mexico/2006/97 mins.)
FOR UPDATE INFORMATION VISIT OUR WEBSITE www.hyderabadfilmclub.org
(Italy-UK-France/2003/115 mins.)
Directed by : Bernardo Bertolucci
Cinematography: Fabio Cianchetti
Cast : Michael Pitt, Eva Green, Louis Garrel
The Dreamers is a 2003 romantic drama film directed by Bernardo Bertolucci. The screenplay is by Gilbert Adair, based on his own novel The Holy Innocents. An international co-production by companies from France, the United Kingdom, and Italy, the film tells the story of an American university student in Paris who, after meeting a peculiar brother and sister who are fellow film enthusiasts, becomes entangled in an erotic triangle. It is set against the backdrop of the 1968 Paris student riots. The film makes several references to various movies of classical and New Wave cinema, incorporating clips from films that are often imitated by the actors in particular scenes.
Paris, spring 1968. While most students take the lead in the May 'revolution', a French poet's twin son Theo and daughter Isabelle enjoy the good life in his grand Paris home. As film buffs they meet and 'adopt' modest, conservatively educated Californian student Matthew. With their parents away for a month, they drag him into an orgy of indulgence of all senses, losing all of his and the last of their innocence. A sexual threesome shakes their rapport, yet only the outside reality will break it up.
Bernardo Bertolucci (16 March 1941 – 26 November 2018) was an Italian director and screenwriter, whose films include The Conformist, Last Tango in Paris, 1900, The Last Emperor (for which he won the Academy Award for Best Director and the Academy Award for Best Adapted Screenplay), The Sheltering Sky, Little Buddha, Stealing Beauty and The Dreamers.
Italy's greatest auteur of his generation, Bertolucci managed to work both in Europe and Hollywood, though his relationship with the studios had its ups and downs. But even when he operated within the studio system, Bertolucci always managed to make films that were considered projections of his inner world.
In recognition of his work, he was presented with the inaugural Honorary Palme d'Or Award at the opening ceremony of the 2011 Cannes Film Festival.
From 1979 until his death in 2018, he was married to screenwriter Clare Peploe.
Bertolucci also penned many screenplays, both for his own films as well as for films directed by others, two of which he also produced.
He was an actor in the film Golem: The Spirit of Exile, directed by Amos Gitai in 1992.
Bertolucci died in Rome on 26 November 2018, at the age of 77 of lung cancer.
Cinematography: Darius Khondji
Cast : Charlie Hunnam, Robert Pattinson, Sienna Miller
The Lost City of Z tells the incredible true story of British explorer Percy Fawcett, who journeys into the Amazon at the dawn of the 20th century and discovers evidence of a previously unknown, advanced civilization that may have once inhabited the region. Despite being ridiculed by the scientific establishment who regard indigenous populations as "savages," the determined Fawcett – supported by his devoted wife, son and aide de camp returns time and again to his beloved jungle in an attempt to prove his case, culminating in his mysterious disappearance in 1925.
The film had its world premiere as the closing night film on October 15, 2016, at the 54th New York Film Festival. In February 2017, the film was presented at the 67th Berlin International Film Festival in the Berlinale Special section. It also served as the opening night film of Boston International Film Festival on April 13, 2017. Time magazine listed it as one of its Top 10 Films of 2017
Cast : Ana de la Reguera, Ingrid Martz, Gabriela Platas
Three flat mates in Mexico City face uncertainties: Lucía who has a great job as an art director for TV commercials is abusing alcohol and cocaine. She risks losing her job, going to prison for assault, and she's woefully in love with a bullfighter who may be two-timing her. Carmen, an artist without income, can be manic – snorting lots of cocaine and hanging out with a gay man and a transvestite. What's her future? Hanna contemplates divorce from Abraham, a wealthy momma's boy, and she's disoriented by feelings of attraction to Sandra, a customer at her jewelry store. Can any of these poor little rich girls sort things out in a world of excess?