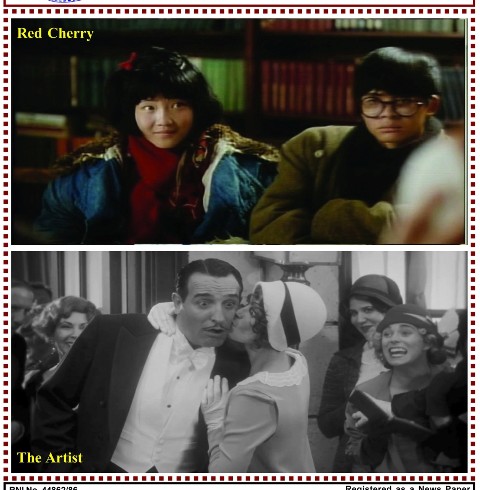 Hyderabad Film Club
November Programme
at Sri Sarathi Studios Preview Theatre, Ameerpet
11-11-2022 6.00 p.m. RED CHERRY
Friday (China/1995/120 mins.)
12-11-2022 6.00 p.m. THE ARTIST
Saturday (France/2011/100 mins.)
RED CHERRY

(China/1995/120 mins.)
Red Cherry is a 1995 film directed by Ye Ying. The film Best Picture at the 1996 Golden Rooster Awards. The film was China's biggest box office hit in 1995. Internationally, the film was selected in the Panorama section of the Berlin International Film Festival in 1996. The film also won Audience Choice award (Best Foreign Language Film) in Palm Springs International Film Festival in 1996.
It is 1940. Chuchu and Luo Xiaoman are Chinese students who have been sent to study in Moscow, atthe International School. She is 13; he is 12. Xiaoman is from Yanan, Mao's base after the Long March;Chuchu had seen her father executed by Chiang Kai-shek's Kuomintang. The youngsters fit in well andlearn to speak Russian… A large group of students,including Chuchu, leave for summer camp in Byelorussia accompanied by their teacher, Miss Vera.Xiaoman remains behind… The Nazis invade the So-viet Union. Moscow remains unoccupied. Xiaomantakes a job delivering condolence letters to soldiers'families. At one apartment, he finds a mother hasdied. Her very young daughter, Nadia, has not real-ized it… The summer camp is occupied by Germans. Miss Vera is murdered. One of the Russian boys, Carl, is half-German, and helps the others to escape. They are quickly recaptured. Chuchu and several other stu- dents are sent by Gen. von Dietrich to work as servants at Nazi headquarters in the …
THE ARTIST

(France/2011/100 mins.)
Melodrama, Romantic Comedy, Period Drama
The Artist is a 2011 French comedy-drama film inthe style of a black-and-white silent film or part-talkie.The film was written and directed by Michel Hazanavicius. The story takes place in Hollywood, between 1927 and 1932, and focuses on the relation-ship between a rising young actress and an oldersilent film star as silent cinema falls out of fashion and is replaced by the "talkies".
The Artist received widespread critical acclaim and won many accolades. Dujardin won Best Actor at the 2011 Cannes Film Festival, where the film pre- miered. The film was nominated for six Golden Globes,the most of any 2011 film, and won three: Best Motion Picture – Musical or Comedy, Best Original Score, and Best Actor – Motion Picture Musical or Comedy or Dujardin. In January 2012, the film was nominated for twelve BAFTAs, the most of any film from 2011 and won seven, including Best Film, Best Director, Best Actor for Dujardin, and Best Original Screenplay for Hazanavicius.
It was nominated for ten Academy Awards andwon five, including Best Picture, Best Director for Hazanavicius, and Best Actor for Dujardin, makinghim the first French actor ever to win in this category.In France it was nominated for ten César Awards, winning six, including Best Film, Best Director for Hazanavicius and Best Actress for Bejo. The Artist has received more awards than any other French film.Hollywood 1927. George Valentin is a silent movie superstar. The advent of the talkies will sound thedeath knell for his career and see him fall into oblivion. For young extra Peppy Miller, it seems the sky's the limit – major movie stardom awaits.TheArtist tells the story of their interlinked