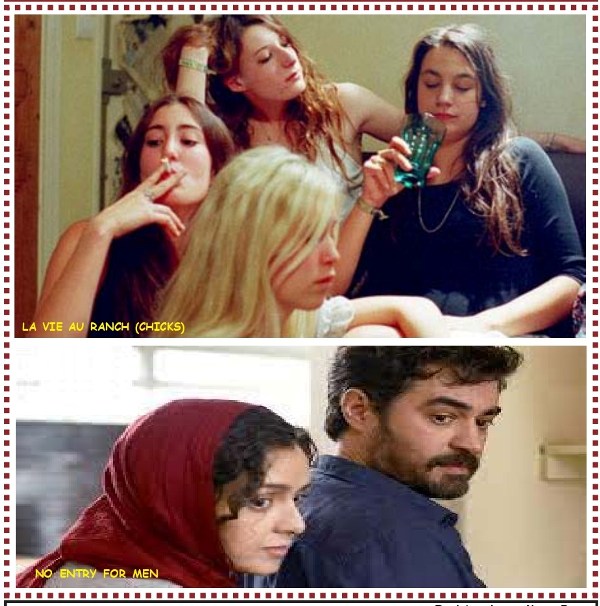 ---
HYDERABAD FILM CLUB
(SRI SARATHI STUDIOS PREVIEW THEATRE)
14-10-2022 6.00 p.m. NO ENTRY FOR MEN
Friday (Iran/2004/102 mins.)
15-10-2022 6.00 p.m. LA VIE AU RANCH (CHICKS)
Saturday (France/2012/90 mins.)
For information visit www.cinevinodam.com
NO ENTRY FOR MEN
(Iran/2004/102 mins.)
Director :  Rambod Javan
Cast : Reza Attaran, Vishka Asayesh, Mani Haghighi, Pegah Ahangarani
The battle of the sexes has seen no greater playing field than one of the strictest all-girls'
schools in Tehran, where formidable headmistress Mrs Darabi rules with an iron fist. Her
number one, non-negotiable regulation: no man must ever cross the threshold of her institution of academic excellence. However, when a teacher must take leave just as the school's star science students are preparing for the international Chemistry Olympiad, Mrs Darabi's only option is to hire a dedicated, if bumbling, male teacher. Once her golden rule is broken, Mrs Darabi's dislike of men reaches a fever pitch, with results that will have audiences rolling in the  aisles – and cheering for good old-fashioned romance. 'No Entry for Men' was wildly successful at the box-office in its native Iran and for good reason – this charming, gentle romantic comedy will appeal to young and old alike.
Awards Won… 2011 Fajr Film Festival Crystal Simorgh, Best Actress in a Leading Role
Got several awards indifferent countries.
LA VIE AU RANCH (CHICKS)
(France/2012/90 mins.)
Comedy/Drama
Director : Sophie Letourneur:
Cast : Sarah Jane Sauvegrain, Eulalie Juster, Mahault Mollaret),
It's hectically busy on the sofa of students Pam and Manon. They do what girls that age always prefer to do: talk, smoke, drink, chat, party. While she is rarely if ever on-screen alone, the playful, apparently improvised camera focuses on 20-year-old Pam, who with Manon shares an apartment known as the "Ranch". Their living room seems to be constantly filled with various numbers of other female students and an occasional male. Their primary activity: talking. About Lola who has been dumped by her boyfriend, about Manon's boots, about Pamela's bladder infection. They talk until they lose their voices. Yet another less narcissistic reality breaks
through occasionally that is typical of the ladies' student disengagement.
AWARDS…   Winner Entrevues Film Festival – Best Feature Film
Winner – Grand Prix – Best French Film