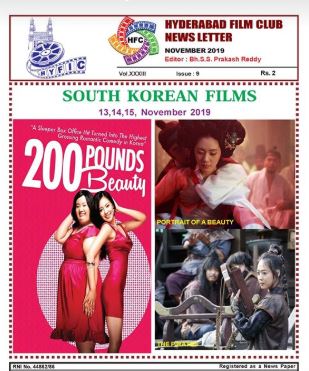 HYDERABAD FILM CLUB – SRI SARATHI STUDIOS presents
SOUTH KOREAN FILMS
At Sri Sarathi Studios Preview Theatre, Ameerpet
13-11-2019 6.30 p.m. 200 POUNDS BEAUTY
Wednesday (2007/116 mins)
14-11-2019 6.30 p.m. PORTRAIT OF A BEAUTY
Thursday (2008/100 mins.)
15-11-2019 6.30 p.m. THE PIRATES
(South Korea/2006/ /120 mins.)
(Romantic-Comedy / Music / Plastic Surgery)
Han-Na (Kim A-Joong) is a very large girl with a warm heart. She also possesses an unbelievable 
voice. Han-Na wants to become a pop-singer, but due to her extra-large appearance, can only work 
as a faceless singer. She provides the vocals for a popular singer named Amy ( Ji Seo-Yun ), a 
beautiful young lady that can't carry a note to save her life. 
Han-Na is also in love with Amiys music producer, Sang-Joon ( Joo Jin-Mo ), but it's a one-sided love. 
One day, Han-Na is invited to Sang-Joon's birthday party and receives a red dress from him to wear 
to his party. Han-Na is excited, yet scared. The dress is revealing and quite extravagant. With her 
very large figure, she is not sure if she can wear such an outfit. Han-Na does eventually go to the 
birthday party in the red dress, but is mortified when petite Amy appears in the same red dress. 
During the course of the birthday party, Han-Na absorbs more emotional trauma and she simply 
disappears for one year. 
Han-Na then returns as the beautiful Jenny …
(South Korea/2008/ /108 mins.)
Portrait of a Beauty adapted from the bestselling novel Painter of the Wind by Lee Jung-myung, the 
film portrays Joseon-era painter Shin Yun-bok (better known by his pen name, Hyewon) as being a 
woman disguised as a man 
Retired court painter Shin Han-pyeong seeks to settle an old score with the most sought-after painter 
of that time, Kim Hong-do (Kim Young-ho). Shin raises his son to surpass Kim Hong-do, but his son 
commits suicide over his lack of talent. The father then pushes his daughter Yun-jeong to disguise 
herself as her brother and enter the world of court painters.
The grown-up Yun-jeong (Kim Min-sun), now known under the pen name "Hyewon," finally enters the 
court and learns to paint under the guidance of Kim Hong-do, who is trusted by King Jeongjo. 
Kim Hong-do quickly notices Yun-bok's huge potential as well as his girlish features. Things remain 
normal until Yun-bok goes out and comes across a playful seller of mirrors, Kang-mu (Kim Nam-gil). 
When their romantic adventure takes off, it is Kim Hong-do who ends up heartbroken. Kim's jealousy, 
and his desire to own Yun-bok physically and emotionally, soars to a perilous level.
(South Korea/2014/130 mins.)
The Pirates is a 2014 South Korean period adventure film starring Son Ye-jin and Kim Nam-gil. 
On the eve of the founding of the Joseon Dynasty , a whale swallows the Ming Emperor's Seal of 
State being brought to Joseon by envoys from China. With a big reward on whoever brings back the 
royal seal, mountain bandits led by Jang Sa-jung go out to sea to hunt down the whale. But he soon 
clashes with Yeo-wol, a female captain of pirates, and unexpected adventure unfolds