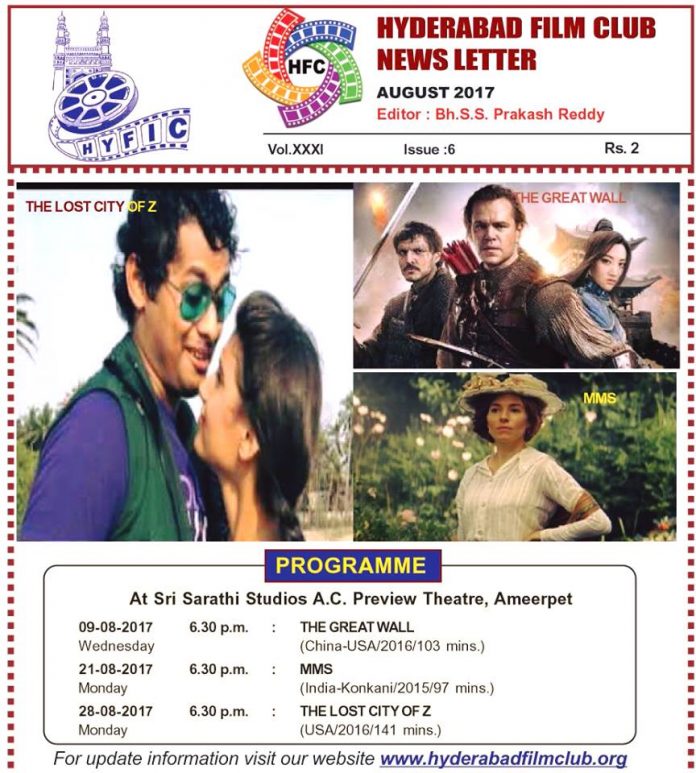 HYDERABAD FILM CLUB  &  SRI SARADHI STUDIOS
                                               AUGUST PROGRAMME
                              At Sri Sarathi Studios Preview Theatre, Ameerpet
            09-08-2017        6.30 p.m.    :   THE GREAT WALL
Wednesday                                              (China-USA/2016/103 mins.)
           21-08-2017                    6.30 p.m.    :  MMS
Monday                                                    (India-Konkani/2015/97 mins.)
          28-08-2017        6.30 p.m.    :  THE LOST CITY OF Z
Monday                                                                    (USA/2016/141 mins.)
 THE GREAT WALL
( China-USA/2016/103 mins.
Director             :   Yimou Zhang
Screenplay        :  Carlo Bernard , Doug Miro 
Camera                                :  Stuart Dryburgh, Zhao Xiaoding
Stars                :   Matt Damon, Tian Jing, Willem Dafoe
When a mercenary warrior (Matt Damon) is imprisoned within the Great Wall, he discovers the mystery behind one of the greatest wonders of the world. As wave after wave of marauding beasts besiege the massive structure, his quest for fortune turns into a journey toward heroism as he joins a huge army of elite warriors to confront the unimaginable and seemingly unstoppable force
MMS
(India-Konkani/2015/97 mins.)
Director             :  Joywin Fernandes
Scriptwriters      :  Joywin Fernandes
Cast                 :  Prince Jacob, Kevin D`Mello, Maya
Based on facts and articles collected from Newspapers, MMS is a social awakening film which highlights the ill effects of technology and how can it affect one's well being. The movie revolves around the idea of how various girls across the country are betrayed in love and find themselves trapped by their lovers who take objectionable pictures and then threaten to circulate them
THE LOST CITY OF Z
(USA/2016/141 mins.)
Director             :  James Gray
Music by           :  Christopher Spelman
Screenplay        :  James Gray, David Grann
Stars                :  Charlie Hunnam, Robert Pattinson, Sienna Miller
The film had its world premiere as closing night film on October 15, 2016, at the New York Film Festival and the film was praised by critics. The film won International Cinephile Society Awards-2017 – Best picture
The Lost City of Z tells the incredible true story of British explorer Percy Fawcett, who journeys into the Amazon at the dawn of the 20th century and discovers evidence of a previously unknown, advanced civilization that may have once inhabited the region. Despite being ridiculed by the scientific establishment who regard indigenous populations as "savages," the determined Fawcett – supported by his devoted wife, son and aide de camp returns time and again to his beloved jungle in an attempt to prove his case, culminating in his mysterious disappearance in 1925.
For update information visit our website www.hyderabadfilmclub.org