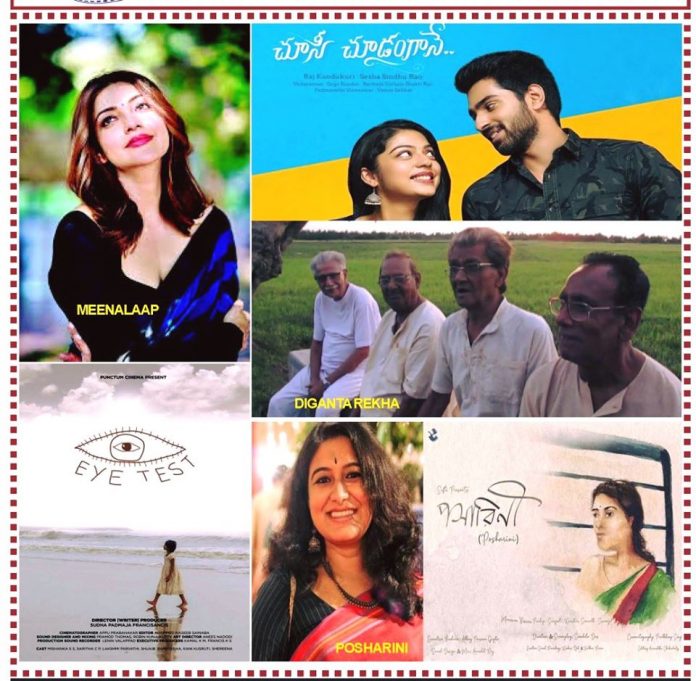 HYDERABAD FILM CLUB – SRI SARATHI STUDIOS &
FEDERATION OF FILM SOCIETIES OF INDIA
On the occasion of International women's Day
at Sri Sarathi Studios Preview Theatre, Ameerpet
08-03-2020 6.00 p.m. Inaugural function followed by screening of films
(Malayalam/2017/Short Fiction/17 mins.)
Dir. Sudha Padmaja Francis
(Telugu with EST/2020/Comedy/113 mins.)
09-03-2020 6.00 p.m.
1.

MEENALAAP

(Fish Monologue)
Monday (India-Bangladesh/2017/Short Fiction/28 mins.)
(Bengali/2017/Documentary/14 mins.)
Dir. Sudarshana Chakraborty
(Bengali/2019/Short Fiction/27 mins.)
(Bengali/2019/Feature/89 mins.)
Director : Anuradha Kinda
(India-Bangladesh/2017/Short Fiction/28 mins.)
Director : Suborna Sanjutee
The 28-munite film is about the alteration of life while living in a lonely city and about hope.
Meenalaap (Fish Monologue) revolves around a Bengali couple migrated from a remote village of 
West Bengal to Pune city, working in a garments factory and struggling to meet the ends while 
expecting a child.
The film delves into the psychological changes of them in the realm of urban alienation in the 
absence of their own family and culture while becoming a mother and father from husband and 
wife for the first time.
Tushee has won a prestigious award at the 14th Eurasia International Film Festival for her short- 
film "Meenalap". She won the Grand Prix prize in short film category at the film festival which was 
held in Kazakhstan. Tushee directed and wrote the screenplay of the 2017 movie Meenalap which 
was filmed in Pune.
She obtained a PG Diploma in Film Direction and Script Writing from Film & Television Institute of 
India (FTII) in Pune. Now she is engaged in film-making in Bangladesh. She has received many 
awards from different film festivals held in Kazakhstan, Tajikistan, India, Armenia, Nepal, Egypt and Dubai.
(Bengali/2017/Documentary/14 mins.)
Director : Sudarshana Chakraborty
(Malayalam/2017/Short Fiction/17 mins.)
Director : Sudha Padmaja Francis
Eye Test is a short fiction film delves into the mindscape of the 27 year old Nivedita when she visits 
an eye clinic for a checkup, to deal with her mother's demise.
Sudha Padmaja Francis' directorial debut Eye Test is a 15-minute short film that recently won the 
National Award for Cinematography in the Non Feature category.
Director Sudha Padmaja Francis/ Sudha K F is a 27 year old filmmaker and has completed her 
postgraduate degree in Film from the University of Reading, UK in September 2017. She is a 
recipient of the Felix scholarship for 2016-2017. She currently resides in Kerala, India.
(Bengali/2019/Feature/89 mins.)
Director : Anuradha Kinda
(Bengali/2019/Short Fiction/27 mins.)
' Posharini ' (The Saleswoman), a short directed Sreecheta Das, is receiving appreciation
from all corners as it travels to festivals across the globe. The short film, narrating the
story of a woman hawker, has recently won two awards – Best Student Film Award at the
7th Woodpecker International Film Festival and the Best Short Narrative Award at
the  Bastau Film Festival  in Kazakhstan.
'Posharini' has also travelled some other prestigious film festivals like South Asian Short
Film Festival, Bengali Film Festival of Dallas, Beijing Film Festival, International
Documentary and Short Film Festival of Kerala to name a few.
"The story of 'Posharini' sees acute circumstances pushing Gauri, a young woman hailing
from a lower middle class family in a very small suburban town in India, to hawking on
trains. Initially she struggles hard for quite a few days to actually stand up and start
hawking. Finally when she does, she earns the wrath of the other regular hawkers – all
male – in the compartment. What follows is a saga of acute non-cooperation and ragging
from her peers while Gauri struggles hard to adjust to this new way of life and make ends
meet," explains Sreecheta while giving an idea about the film's storyline.
(Telugu/2020/comedy113 mins)
Director : Sesha Sindhu Rao
Choosi Choodangaane is a coming of age romantic comedy film. It is the story of Siddu (Shiva 
Kandukuri), through different stages of life. His relationship with his parents (Anish Y Kurivilla 
and  Pavithra Lokesh ), his struggles in his career, friendship and how he falls in love with Aishwarya 
(Malavika Satheesan) in college and what happens when he meets Shruti (Varsha Bollamma) at a 
later part in his life is depicted through this film. Siddu (Shiva Kandukuri) is portrayed as a 
wedding photographer in the film, while Shruti is a music composer and drummer in a band. The 
film uses a fourth wall narrative style in places and also has multiple perspectives portrayed.