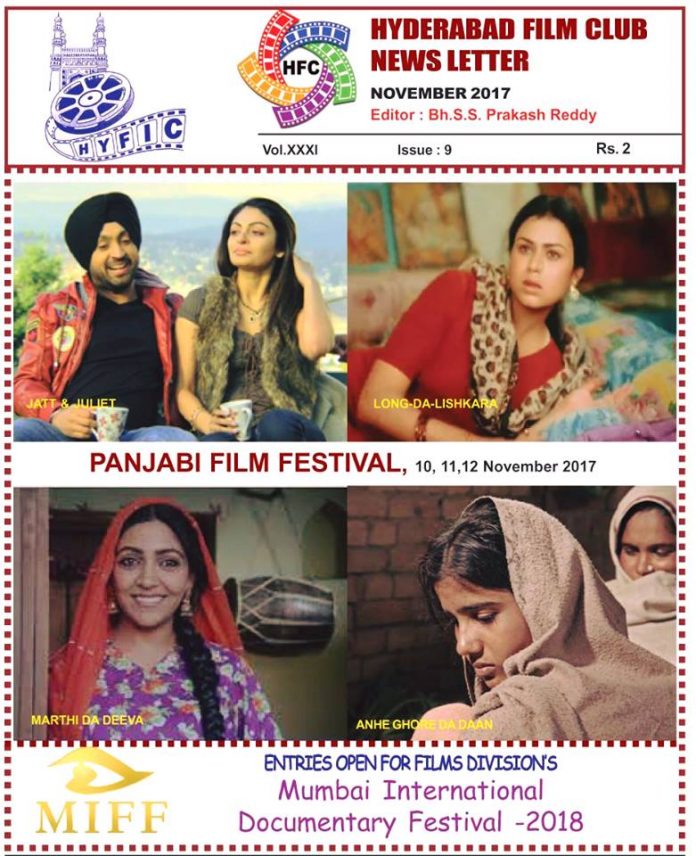 HYDERABAD FILM CLUB   &  SRI SARATHI STUDIOS presents
PUNJABI FILM FESTIVAL
SCREENING SCHEDULE
10-11-2017             6.30 p.m.      :   JATT & JULIET
 Friday                                                     (2012/138 mins.)  Dir. Anurag Singh
11-11-2017                         6.30 p.m.     :  LONG-DA-LISHKARA
Saturday                                                 (1986/138 mins.) Dir. Harpal Tiwana
12-11-2017                         5.00 p.m        :  1. MARTHI DA DEEVA
Sunday                                                                   (1989/115 mins.)  Dir. Surinder Singh
ANHE GHORE DA DAAN
                                                                    (2011/113 mins.) Dir. Gurvinder Singh
                                             PUNJABI CINEMA
The cinema of Punjab has its beginnings with the 1928 production of Daughters of Today, the earliest feature film produced in Punjab. The first sound film, Heer Ranjha, using the sound-on-disc technology, was released in 1932. Since then, many films have been produced in Punjabi cinema, a number of which have received international recognition. Many actors and filmmakers started their careers in Punjabi films, a number of whom have acquired international reputations, and a number of whom have found greater financial benefits in careers in larger film producing industries.
Today, the Punjabi film industry generates several commercially successful movies every year, making Punjabi cinema into an increasingly competitive producer of films in the world.
Year 2015 was attributed to a few directors who took the risk of taking up different subjects with some fresh stories and some fresh actors and villains. Sensing the future of entertainment, especially in Punjabi medium, the Punjab government has decided to give 'support to Pollywood' by setting up Film City and Film Institute in the vicinity of Mohali district. In the field of punjabi cinema Punjabi lyrics plays a vital role as well.
 JATT & JULIET
(Punjabi/2012/138 mins.)
 Directed by        ..          : Anurag Singh
Screenplay by   ..          : Dheeraj Rattan
Music by           ..          : Jatiner Shah, NickDhammu
Camera by        ..          : Anshul Choubey
Edited by          ..          : Manish More
Cast                 ..          : Diljit Dosanjh, Neeru Bajwa, Devinder Dillon, Shivraj Ghuman
 Jatt & Juliet is an Indian Punjabi-language romantic comedy.  The film became a massive blockbuster at the box office and also won multiple awards at the PTC Punjabi Film Awards 2013 including Best Film, Best Director, Best Actor and Best Actress, Best Supporting Actress, Best Screenplay. The film also spawned a sequel the following year, titled Jatt & Juliet 2 featuring most of the same cast and crew. The sequel also broke records at the box office, and ended up becoming the highest-grossing Punjabi film ever. It was remade in Bengali in 2014 as Bangali Babu English Mem.
Jatt is a mischievous lovable sort of a guy whilst Juliet is the typical Punjabi modern day girl. Sparks fly when their paths cross on their way to Canada due to their different outlook on life. But as faith brings them together time and time again their hatred for each slowly turns into friendship only to realize its true meaning when they get separated. Will life give them one more chance to prove their love for each other or will they continue to be at loggerheads?
LONG-DA-LISHKARA
(Punjabi/1986/138 mins.)
 Directed by        ..          : Harpal Tiwana
Screenplay by   ..          : Ravinder Peepat
Music by           ..          : Jagjit Singh,Chitra Singh
Camera by        ..          : Manmohan Singh
Edited by          ..          : Subhash Sehgal
Cast                 ..          : Raj Babbar, Om Puri, Gurdas Mann, Nina Tiwana, Mehar Mittal, Harpreet Deol
Under Jagjit Singh's music direction Gurdas Maan sang the all-time hit "Challa" in this film. Jagjit Singh sang "Ishq Hai Loko," "Main Kandyali Thor Ve" and for this film. The lyrics were written by Shiv Kumar Batalvi and "Sare Pindch Puare Paye" written by Inderjit Hasanpuri.
Raja comes home after finishing school. His mother and the whole village is extremely excited about his arrival but the excitement fades away as they discover that he has fallen in love with one of his house servants, Preeto (Neena Tiwana). Preeto's aunt, Gulabo then tells Preeto a story that horrifies her and makes her want revenge on Raja's household. Will Raja's love for Preeto overcome his family reputation? Will Preeto's love for Raja overcome her need for revenge? Is love strong enough?
MARTHI DA DEEVA
(Punjabi/1989/115 mins.)
 Directed by        ..          : Surinder Singh
Screenplay by   ..          : Gurdial Singh,
Music by           ..          : Mahinderjit Singh
Camera by        ..          : Anil Sehgal
Edited by          ..          : Subhash Sehgal
Cast                 ..          : Raj Babbar, Deepti Naval, Parikshit Sahni,
Pankaj Kapoor, Kanwaljit, Asha Sharma,
Harbhajan Jabhal, Gopi Bhalla
The first Punjabi art-house film this is a melodrama about feudalism, based on a popular novel by Gurdial Singh. The story chronicles the shift from feudal sharecropping to capitalist farming over two generations of the region's rural elite. Jagsir, the son of the sharecropper, Thola, is treated as a brother by the landlord Dharam Singh. The landlord's son, however, does not continue this family tradition. As Jagsir's mother belongs to a nomad caste, the hero's love for the bride of the impotent barber Nika is fraught with problems. Symbolically, the building of Jagsir's father's tomb and then of his own tomb hastens Jagsir's physical deterioration and death.
Won the National Award-1989 Best Punjabi Film.
ANHE GHORE DA DAAN
(Punjabi/2011/113 mins.)
Directed by        ..          : Gurvinder Singh
Screenplay by   ..          : Gurdial Singh,Gurvinder Singh
Music by           ..          : Catherine Lamb
Camera by        ..          : Satya Rai Nagpaul
Edited by          ..          : Ujjwal Chandra
Cast                 ..          : Samuel John, Kulvinder Kaur
The film is set in a village in the outskirts of Bathinda city where villagers work in the fields of the local landlord. It is a village where people are trying hard to make peace with their existence. Daily rituals betray their simmering anger and their helplessness. The landlord has apparently sold his plots to an industry which has demolished the house of one of the villagers who refuses to vacate it. The elderly farmer's son is a rickshaw puller in the nearby town. The rickshaw pullers have gone on a strike that has turned violent. Both father and son are equally clueless about their futures.
AWARDS
Anhe Ghore Da Daan is the first Punjabi-language film to have travelled to numerous international film festivals. The film premiered in the Orizzonti section (Horizons) at the 68th Venice International Film Festival. It won the Special Jury Award and the $50,000 Black Pearl trophy at the Abu Dhabi Film Festival. It was also shown at the 55th BFI London Film Festival, 49th New York Film Festival and the 16th Busan International Film Festival. The film won National Awards for Best Direction and Cinematography at the 59th National Film Awards of India. In the regional category (Punjabi language) it was given another award for best film in 59th National Film Awards.  This film has also won the Golden Peacock award for best film at the 43rd International Film Festival of India (IFFI) 2012 in Goa.