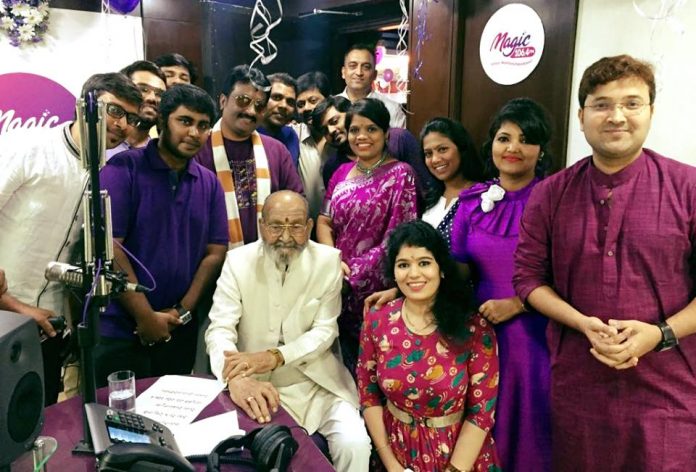 HYD's first Retro FM station MAGIC 106.4 FM launched
The station to feature evergreen and classic songs from retro hit makers like Ilaiyaraaja, Raj – Koti, M.M Keeravani and A.R Rahman
After the successful 11 years journey of Red FM 93.5, Sunnetwork, one of India's largest networks has come up with it's second station MAGIC 106.4 FM in Hyderabad. MAGIC 106.4 FM is the first retro station in Hyderabad, which was recently launched with the intent to connect listeners back to a nostalgic-filled era. The 100% retro content station, launched with the sentiment of "Vintoo Maimarachipodaam" (Let's get mesmerized) aims at delivering a unique experience that connects one to an era and encourages listeners to realise that magic exists in everyday life! Popular classic songs from evergreen hit makers like Ilaiyaraaja and A.R Rahman will be the staple on the station to help people break free from the hustle and bustle of a stressful city life.
Widely considered to be a city steeped in history, the people of Hyderabad are known to have a penchant for traditional, evergreen and retro music. It's a quality the city is known for and the station will be tapping into this sentiment to reach out to the locals. MAGIC 106.4 FM, with the assistance of celebrities and popular RJs well established in the radio industry like RJ Prateeka, RJ Sri Krishna, RJ Murali, RJ Jo, etc.. will bring retro content to listeners throughout the day.
Speaking about the launch of MAGIC 106.4 FM, B. Surendar, COO, Red FM network said…
"MAGIC 106.4 FM is our answer to people's hectic lives – a window of opportunity to get lost in the yesteryears, which was free from stress and more care-free. The people of that era still reminisce the culture and lifestyle of that time, and the music and movies of those days hold a special place in their hearts. Our network has constantly strived to bring newer content formats to the masses, a fact which is deeply imbibed in the network's DNA. We believe MAGIC 106.4 FM fits the bill perfectly of being a platform to relive the nostalgic 80's and 90's era and let listeners enjoy a spark of magic in their daily lives today. We would like to bring forth more mesmerising situations in the hearts and minds of our consumers through MAGIC 106.4 FM and trigger an unconditional sense of joy allowing listeners to Vintoo Maimarachipodaam!"
MAGIC 106.4 FM is an attempt to create trendsetting, experiential radio station – thanks to the never before music mix and the first-time-ever content philosophy. This is the second station to be launched in Hyderabad after the initial launch in Mumbai, which was met with an over-whelming response.
The channel hit airwaves on 11th July. The FM channel was grandly launched by the renowned Director, Dada Saheb Phalke award winner, K Vishwanath Garu on 11th July at 10:06 min 4 sec. Celebrities like Music Director Koti, Producer Aswani Dutt have come down to the studio during the day to bless and wish Magic 106.4 FM team on their new journey. The Celebrities have expressed their happiness and have wished the team to create some magic among the listeners with the beautiful retro music. The day continued with celebrations with RJs and Celebrities.
The thought behind this channel is to help listeners find magical moments in their daily hectic lives and to transport from them into an era which is nostalgic and mesmerising. With a unique positioning, the radio station aims to provide its listeners a medium to break from the mundane daily life and builds on the proposition of "Vintoo Maimarachipodaam." The music played on the new channel is specially curated to uplift your mood, will enable you to create happy thoughts in your mind and make your day more enjoyable.