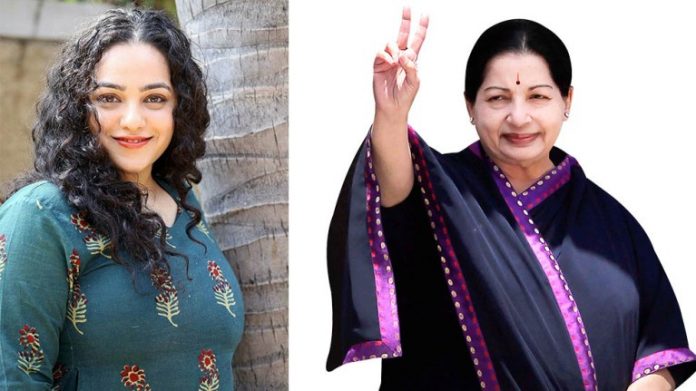 Nithya Menen as J.Jayalalithaa in The Iron Lady
I have been getting a lot of questions about the status of the movie 

The Iron Lady

. I'm duty bound to answer your 
queries as the director of the film. While you may already know some of the facts discussed here, I place them 
before you again to comprehensively answer all the questions I have been asked recently. The film The Iron 
Lady spans over six decades covering the entire life story of former Chief Minister of Tamil Nadu,Selvi.

J.
Jayalalithaa
, who was lovingly addressed by the people of TamilNadu as "Amma."
The most charming and vivacious actor Ms. 

Nithya Menen

is to play the lead role of Amma J. Jayalalithaa, in the 
movie. After carefully listing out the different aspects that the role demands, Nithya Menen was shortlisted as the 
perfect cast for the role of Amma. From sharing similar facial features to emanating a graceful and 
charming personality, Nithya Menen naturally embodies many personality traits that Amma herself exhibited. She 
has the iron will that Amma had and can speak six languages fluently just the way Amma could. She, like Amma is 
also trained in Bharathnatyam and vocal carnatic music since childhood.
The most challenging aspect of a biopic is inintroducing it to the audience. Perhaps even more so than the making of 
it. While biopics are commonly viewed as a breeding ground for both absolving as well as raising more 
problematics, controversies and criticisms there are many procedural aspects to introducing its production stages to 
the public. Right from scaling the subject, cast confirmation and character reveal to acknowledging and 
authenticating the source of information in an ethical manner the challenges that are posited before a director are 
so many. Biopic is a challenging genre as it has scope to cater to expectations of larger audience groups. The script of 
a biopic demands a lot of effort and careful planning as it must fulfill several criteria. To have a proper reach, a biopic 
must be critically acclaimed, objective in its standpoint while representing multiple points of view and should also be 
a commercial success. Sir Richard Attenborough spent 18 years to shape the biopic Gandhi. I strongly believe that 
such devout preparations and well planned execution is the need of the hour when it comes to directing a biopic.
Casting plays almost 50 percent of the role in pitching a biopic to the audience. Therefore, I wouldn't compromise on 
the casting choices at any rate. Only a perfect casting team can help each other in building the narrative of a biopic 
and at the same time bring to life on screen the essence of their real-life counterparts. There is a 
huge responsibility that lies ahead of me to meet all of these quality demands. I have acquired a clear vision of my 
path and have gained more strength and courage by studying, research and travelling along with the characters of 
this film and make the impossible, possible.
The Iron Lady consists of many technical departments operating synchronously towards exploring our creative 
potential and at the same time refrain misrepresenting that real facts. I'm awaiting dates confirmation from two of 
the main character cast of the film. The cast characters' reveal is sure to be an interesting and exciting one 
and definitely worth the wait! It is necessary to wait to fully understand the logic and reason behind the timing of 
the reveal. I can assure to those to raise many questions and concerns about updates on the movie, that your 
palpable excitement and expectations are sure to be satiated with each andevery step that we are to take and 
consequently revealto all.
Thanking You                                                                                   
Yours truly