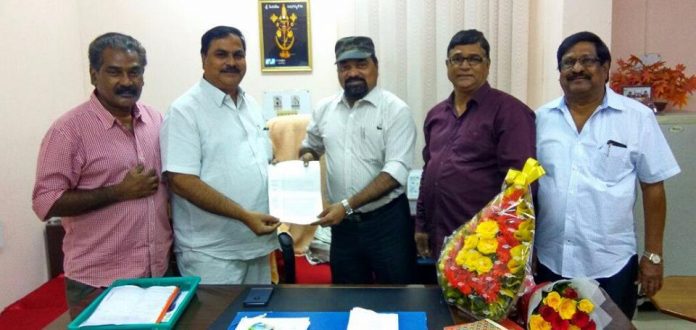 sharif president of Television producers council have submitted a memorandum to Doordarshan Yadagiri Director regarding extension of commissined progrmmes to private Producers.
M.Vijaybhagwan as Doordarshan Yadagiri channel head 
M. vijaya bhagawan as Channel Head of Doordarshan Yadagiri, w.e.f 12-12-17,Is an officer of Indian Broadcasting Service having around 32 years experience in television program production and management. He was recruited through UPSC in the 1986 batch of program officers. Trained in FTII (Film and Television Institute of India) Pune, IIMC (Indian Institute of Mass Communication) New Delhi and also trained by Thompson Group and Indo American Sub Committee in the production of multi camera setups and major sports events. Also a producer for a number of national and international sports events including cricket.
During his long service he served in various doordarshan channels in important positions starting with Doordarshan Hyderabad where he was the first direct recruitee through UPSC for telugu programs. 
He then went on to serve DD National, followed by DD India (international Channel) where, in 
his tenure, was a program co-ordinator and producer for Pravasi Bharatiya Diwas (an event that commemorates the contribution of overseas Indian community for the development of India) for telecast into major television channels including the larger event in 2010. He was instrumental in transporting this channel to various countries of the world and popularising Doordarshan with niche programs which received appreciation in various countries.
In DD Urdu, a channel which was commenced to promote Urdu language by the then Honourable Prime Minister of india, as a Channel Head, made the channel vibrant to meet the aspirations of its viewers and enriched it with popular serials commissioned by Doordarshan.
The event Jashn-e-begum Akhtar – (A National Talent Show based on the legend Begum Akhtar) is one of his crown jewels along with another National Level Mushaira organised in Hyderabad in 2014 for the channel.
He was also associated with DD Kashir (channel) as a channel Manager at the directorate general in New Delhi where he formulated and was instrumental in reshaping the channel with an assorted genre of programs. Including those commissioned.
And most recently at DD Saptagiri channel, Vijay Bhagawan has brought the channel to its zenith since its conception by increasing the viewership and bringing it to the first position among the southern DD channels.
Vijay Bhagawan hails from hyderabad. As every true blue Hyderabadi he has studied in Tagore's Home, Nizam College and University of Hyderabad. Familiar in theatre and television production fields. In addition, in his earlier days was a student of Adyar Film Institute, Chennai in the acting discipline.
As a producer of hundreds of programs, documentaries and major national and international events, has brought laurels to the organisation.