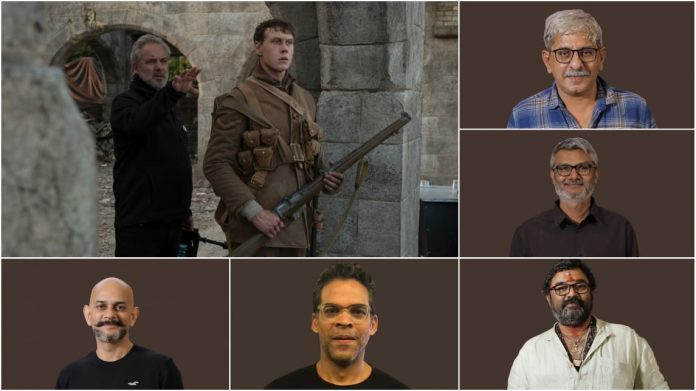 '1917'.. The Sam Mendes directed epic war drama has been on an award-winning spree having bagged 10 Oscar nominations in the 92nd Academy Awards and 9 nominations at the BAFTA Awards this year. Reliance Entertainment- Amblin Partners World War I film '1917' hit the big screens from Friday, 17 January in India.
The film is also the 77th Golden Globes winner in the Best Picture-Drama category and was also honored with the Best Director's award for Sam Mendes. It also won at the 25th Annual Critics' Choice Awards in 3 categories: Best Director-Sam Mendes, Best Cinematography – Roger Deakins and Best Editing – Lee Smith.
The film opened #1 at the US box-office with nearly doubling some industry estimates. This includes the UK who stormed to #1, the largest ever January opening for an original film. 1917 was the #1 film in the world by quite a long way opening with big numbers at various box offices.
Starring George MacKay as Lance Corporal Schofield and Dean-Charles Chapman as Lance Corporal Blake, Mendes has captured the hearts and minds of audiences and critics alike, with Roger Deakins' cinematography attracting rave reviews not only overseas but also in India.
The film has also been well appreciated at a special screening and praised by acclaimed Indian Filmmakers like Sriram Raghavan, Nitesh Tiwari, Vijay Krishna Acharya, Vikramaditya Motwane, Shree Narayan Singh, among others.
Sriram Raghavan… "Totally loved the film, I just saw it so ideally after seeing this film you should be on your own for a while. Please watch it, it's a fantastic movie, I'm going to watch it again on Friday. I loved it!"
Nitesh Tiwari… "Completely loved the film, it's an incredible piece of film making. I'm quite speechless to be very honest. I walked out of the theatre completely stunned. As a filmmaker it makes you feel so small, somebody out there has done something remarkable. The filmmaking, cinematography, production design is fantastic. If you are a true cinema lover, if you want to see great piece of cinema then please go watch 1917. I am strongly recommending this film."
Vijay Krishna Acharya… "I really loved the film. I think all Great War films are actually anti war films. That's what 1917 aims. 1917 is a well put together, one of the most sensitive films I've seen this year. The subject is fabulously well done. The film tugs at you. It's a film which works well emotionally. It's fine film making at its best. Each department is fantastic at their work."
Vikramaditya Motwane… "1917 is a technical marvel. The direction, production design and cinematography are some of the best you'll ever see, anywhere."
Shree Narayan Singh…"An all-out cinematic spectacle, 1917 joins the rank of great war films. Riveting, uncompromising and a sensational technical achievement, it's a bracing, intellectual and one-shot wonder."
DreamWorks Pictures and Reliance Entertainment present, in association with New Republic Pictures, a Neal Street production, produced in association with Mogambo, Sam Mendes film: 1917, starring George MacKay, Dean-Charles Chapman, with Colin Firth and Benedict Cumberbatch.'1917′ is directed by Sam Mendes.
Twitter: @1917 |
#1917Movie